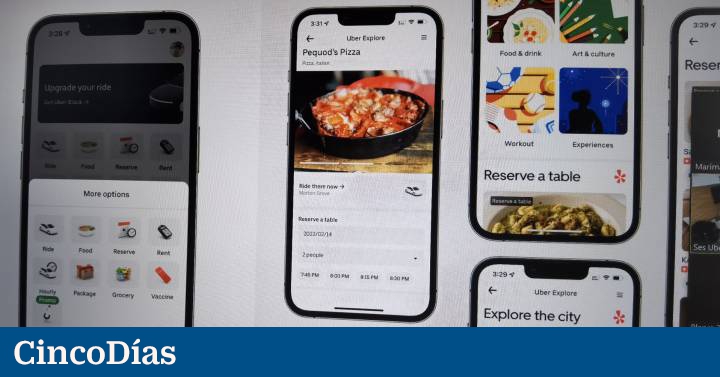 Uber advances in its diversification. The company, which started its activity as a mobility platform, offering VTC and then taxis and scooters), and later expanded the business to food delivery with Uber Eats, is now making the leap to selling tickets to shows and restaurant reservation.
The multinational has announced today that it has chosen Madrid as the first European city to launch Uber Explore, until now only available in beta in 13 cities in the US and in Mexico City. It is a service through which users can consult information on leisure and free time activities, book restaurants and buy tickets to concerts, shows and experiences.
The choice of Madrid is not accidental. As explained by Anabel Díaz, general director of Uber in Europe, the Middle East and Africa, Spain is one of the strategic countries for the company and the Spanish capital has become one of its references. "It is one of the cities that has recovered its demand levels the fastest after the global pandemic. In addition, according to our study, arrivals at Madrid-Barajas airport increased by 55% in June 2021 compared to the same month of 2019, and Madrid has emerged as the preferred destination for tourists from France, the US and the UK".
Díaz assured that Uber wants to become a reference application for leisure and entertainment and defended that the platform can add a lot of value in these areas "because Uber users are not only looking for transportation." "30% of searches that happen on Uber are looking for places (museums, bars, restaurants, shops…), not specific addresses. And we want to answer those questions. We want to expand our services and be the platform that users go to. users not when they have decided where to go but when they are looking for where to go. We want to give visibility to the leisure and gastronomy offer of each city", he added.
Restaurant reservations are now available thanks to an agreement reached with Opentable, a restoration tool that has more than 60,000 restaurants, bars and gastronomic establishments globally. This is not the case with the show ticket section. Uber said that it has also sealed an alliance with Foursquare for the recommendation of places, and that it is negotiating with other actors in the leisure and restoration sector to complete the five categories that the service will have: recommendations, restaurant reservations, exclusive discounts, purchase of tickets and experiences and activities. "The goal is to have partners relevant in each of the categories between now and the end of the year," he said.
The directive highlighted that Uber's business strategy is based on three pillars: growth in mobility in key countries, commitment to sustainability (its objective is that by 2040 100% of trips be in 0-emission vehicles) and diversification. , where this new company service fits in, which in turn connects with those it already had in operation in Spain.
Although those responsible for Uber clarified that the user is not obliged to hire the VTC or taxi service through their platform if they book at a restaurant or buy a ticket for a show, they did indicate that they want to encourage both things to be done. "For ease of use and because there will be exclusive discounts when you buy the ticket plus the trip."
The executive pointed out that they have worked hard these last two years to prepare for the moment we are experiencing today, "with the economic recovery and the social recovery and recovery of leisure activities and tourism" after the pandemic. Díaz stressed that with the launch of Uber Explore and Uber Travel (not available in Europe) they aspire to become the reference application for leisure and tourism in the more than 10,000 cities in which they are present today.