As the world slowly becomes more tech-savvy, the global market sees the emergence of artificial intelligence. The global automotive AI market is expected to grow from $2.71 billion in 2022 to $15.23 billion by 2030 at a CAGR of 24.1%. This increasing adoption of autonomous vehicles is driving the growth of this market, the growing demand for ADAS features, and the need to improve traffic efficiency and reduce emissions. This article will delve in-depth into AI's evolution in the automotive industry.
Four Ways AI Is Impacting The Automobile Industry
AI is truly transforming the landscape of autonomous vehicles, and it's on track to soar to a staggering $60 billion by 2030, up from a modest $5.6 billion back in 2018. This remarkable advancement is not just a huge leap; it's reshaping the entire automotive industry.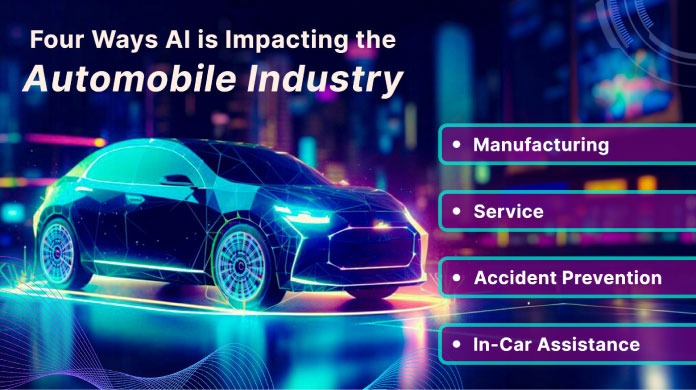 As we witness this incredible journey, it's evident that AI is elevating the functionality, safety, and overall user experience for drivers and manufacturers alike.
Manufacturing
Before AI, auto manufacturing relied on costly manual labor, making production time-consuming. Gathering vehicle performance data and spotting defects were challenging. With AI adoption, manufacturers automate production, easily gather real-time data, and reduce costs by up to 15%, according to Capgemini.
Service & Maintenance
AI is now being employed for anticipatory upkeep and alerts related to factors such as engine and battery functionality, as well as insurance initiatives that assess driver conduct for risk and pricing assessments. Recently, BMW has started using AI to predict maintenance timelines for its vehicles, which helped them reduce the number of breakdowns by 20%. Another leading OEM, Ford, is now using AI to diagnose problems with its vehicles remotely.
In-Car Assistance
It is found that many car industries have adopted in-car connected services. This trend underscores the automotive industry's confidence in this technology, It is also projected that connection services in cars will increase by 60% by 2024. Car assistance like the Mercedes-Benz User Experience (MBUX) infotainment system leads the in-car voice assistance industry. Even the navigation system used in cars is one of the many examples that shows how much AI has contributed to Car Assistance.
Accident Prevention: Risk Assessment + Driver Monitoring
AI is pivotal for safety, especially in autonomous vehicle development, requiring exposure to diverse driving scenarios, including rare hazards. Tesla, a pioneer in sustainable transport since 2003, incorporates AI, like an interior camera enhancing driver alertness. Some automakers are now implementing steering wheel cameras to monitor signs of distraction or fatigue, enabling timely alerts, break recommendations, and speed adjustments, bolstering road safety. Many states and countries worldwide are investing in Intelligent Traffic Management System (ITMS), which utilizes real-time data to enhance traffic management, reduce accidents, and boost safety.
Digital Twins in Automotive Manufacturing
Automotive designers use Digital Twins to meet modern vehicle needs, enabling informed decisions and design refinement before production. The Digital Twins sector is poised for significant growth, with the global automotive industry's digital twin market projected to skyrocket from $3.8 billion in 2022 to $21.7 billion by 2027, boasting an impressive CAGR of 28.1%. Leading industry players are already leveraging the potential of digital twins to drive innovation and efficiency. Famous automobile manufacturer Volvo has been using digital twins to simulate the performance of its vehicles in crash scenarios, General Motors is using digital twins to design prototypes before moving to the manufacturing process.
Winning tomorrow's car buyers using artificial intelligence in marketing and sales
Today, many car dealership businesses emphasize and accept that keeping potential buyers engaged should be their main priority. With the addition of AI in the automotive industry, companies have found newer and innovative ways to boost their marketing and sales.
AI Chatbot on a dealership website: It is one of the trending innovations many dealerships use on their website to improve their customer engagement. The AI chatbot on a dealership website is an artificial intelligence (AI) tool designed to assist customers in car buying.
Digital merchandising using AI virtual studios: To enhance their digital merchandising, many current dealers are now adding virtual studios to give their potential customers an engaging experience. This advanced technology uses artificial intelligence to generate dynamic 360 views with interactive visuals that improve the online customer experience and increase engagement. This also gives dealers some improved efficiency due to streamlined image creation for multiple shots in one go.
Digital car inspection for better buyer trust: Digital vehicle inspections powered by AI, foster trust among customers and service providers. They offer comprehensive insights, including dents, scratches, odometer readings, and more, enhancing transparency. Furthermore, a study found that 62% of buyers would likely buy a used car if they received a digital inspection report.
Conclusion
In conclusion, the future of driving is increasingly becoming a seamless blend of human and artificial intelligence, promising a safer, more efficient, and enjoyable journey for all. AI will play a pivotal role in making vehicles safer, more personalized, and technologically advanced.