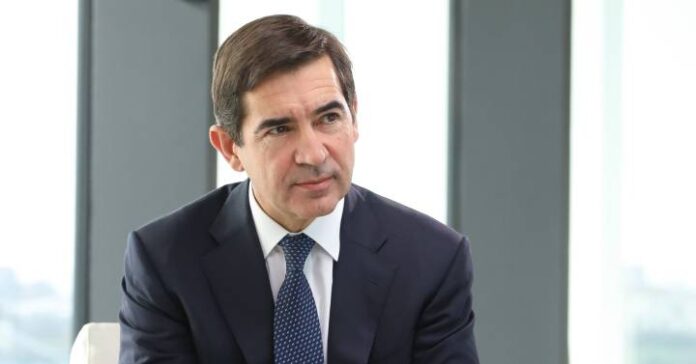 The president of BBVA, Carlos Torres, justifies the breakdown of negotiations for a merger with Sabadell to the disagreement on the price and sees a "very interesting" option to address "a relevant buyback of shares" to remunerate the shareholder after the decision of the European Central Bank (ECB) on the payment of dividends, and after ruling out strengthening its shareholding in the Turkish subsidiary.
His statements are made in an interview published by the bank on its website, where the banker reviews the main milestones and lessons learned this exercise and offers a vision of how the group is facing next year, in a context of health and safety uncertainty. economic even due to the evolution of the pandemic.
"It has been a year of relevant strategic achievements that place us in an unbeatable situation of financial strength to face the year 2021 and reward our shareholders," says Torres, underlining the importance of the sale of the business in the United States in said reinforcement. Joined to the Pennsylvania bank PNC for 11.6 billion dollars (about 9.7 billion euros).
As he recalls, this amount "exceeds by more than two and a half times the value assigned by analysts to the bank there" and generates "8,500 million euros of additional capital", which places the group "very well to face the difficulties that may arise. keep coming back ". "It also places us in a very good position to invest profitably in the markets where we have leadership and places us in an unbeatable position also to increase the return to our shareholders," he adds.
At this point, he considers the ECB's decision regarding dividends "very good news" because it "normalizes" from September 2021 the dividend policy of European banks, something that he considers "very necessary", recalling that when BBVA announced the US operation and pointed out that "we considered a relevant share buyback as a very interesting option, in addition to dividends." "And that continues to be the case at the current prices of our shares, as a very interesting alternative of remuneration, of remuneration to the shareholder," he added.
At that time, the bank also advanced that it would analyze corporate operations shortly before revealing contacts with Sabadell to explore a merger, whose conversations were frustrated a few days later.
"The Sabadell operation was a good example of investment in markets where we have leadership and where we can generate shareholder value," Torres explains in the interview, explaining that "it has not gone ahead, because we have not reached an agreement on economic terms ". "And here, I repeat, our guide is always to generate shareholder value," he remarks.
Another option that the market has estimated that BBVA could undertake is to strengthen its shareholding position in the Turkish subsidiary, something that Torres discards: "the position we now have in the bank, in Garanti, is a position that allows us control, it allows us to manage the bank and we do not contemplate any changes, "he says.
During the interview, he estimates that the coronavirus enhances the strategic decisions that the bank already had in matters such as digitization, helping clients in making responsible and healthy financial decisions, and accompanying clients in their sustainability policies and in the face of change climate.
Trusted environment
Regarding the economic situation, he considers that it continues to be marked by a lot of uncertainty, recalling that the BBVA research service expects that the Spanish GDP will contract by almost 11% this year to rebound in a relevant way the next, although "it will take until the year 22 to regain pre-pandemic levels.
In order to promote recovery, he urges to emphasize the promotion of private investment because through it "we can generate economic growth, we can generate employment, we can generate well-being."
To achieve this investment, it indicates that generating an "environment of trust is fundamental and that means institutional stability, that means regulatory predictability in the rules, in the rules of the game, in what can be expected", in addition to "what Let's have a tax system that does not distort decision-making, that is an efficient tax system. "
In Torres's opinion, it is also necessary to maintain monetary and fiscal stimuli, to undertake reforms "that also attract investment", in addition to advocating a "recapitalization of companies" that have seen their income fall due to restrictions and have had to get into debt. "The ideal would be to have incentives for private capital to enter these companies," he added, demanding "incentives for additional investment."
According to Torres, European funds will be key here and it will be necessary to set "great objectives" to use them in order to modernize the economy, with "programs of a broader spectrum, not so much directed at a company or a specific actor but rather broad-spectrum, which reach small and medium-sized companies and the self-employed or families "and that stimulate the use of public funds and private investment.
In his opinion, the bank should have a role to play there as a channel of funds thanks to its capillarity, but also to help "amplify" resources with financing, which can be provided in advance "or by adding private investment", but also it can "support in the analysis of the projects themselves and in the processing that is necessary to reach all economic agents, small companies, farms, buildings that can be rehabilitated".