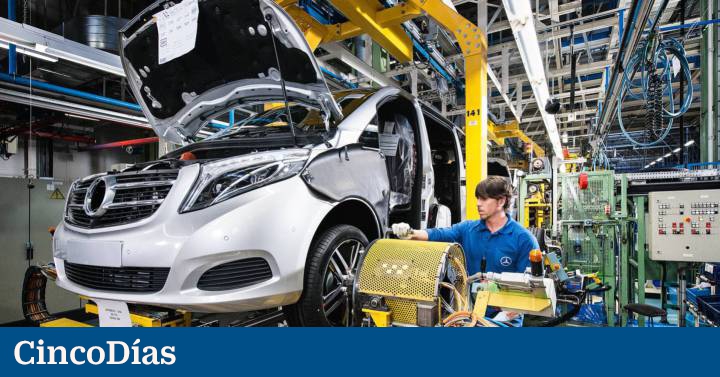 The production of vehicles in Spain has fallen again for another month. According to data offered this Tuesday by the National Association of Automobile and Truck Manufacturers, Anfac, car assembly in the country has fallen by 17.5% in January compared to the first month of 2021, up to 179,908 units. Among the reasons, the employers have denounced, are the global microchip crisis that continues to hit the sector and the low demand for new vehicles both in Spain and outside the borders.
As noted by the car companies, the drop in demand of cars made in Spain in countries such as the United Kingdom (it fell by 27.5%), Italy (-19.7%) and France (-18.6%) It has affected the production volume of the Spanish plants, which are eminently exporters. "The automotive sector continues to go through a complex moment due to the effects of the pandemic on the economy and the microchip crisis. This situation negatively affected Spanish production and exports during 2021 and, as forecasts indicate, it will continue to do so in the short term", has indicated the general director of Anfac, José López-Tafall.
By types of automobiles, the factories have reduced, above all, the production of passenger cars, which have fallen by 19.9%, to 138,350 cars. For its part, the manufacture of commercial and industrial vehicles fell by 8.5%, to 41,558 units.
As for the assembly by different Energy sourcesthe production of pure electric cars grew 40.7% in January compared to a year earlier, to 9,086 cars; while the plug-in hybrids they fell by 12.9%, with 10,757 units. Between both types, they already account for 11.1% of the production quota of Spanish factories.
"The automotive sector continues to work to move towards the new zero-emission mobility, with the manufacture of more sustainable and safer alternative vehicles. However, we are lagging behind in electrification compared to the rest of the countries. The base order of Part of the electric vehicle and it is necessary to speed up the process to mobilize the funds and the industry", López-Tafall stressed.
Finally, exports fell 15.7% in January, up to 155,747 units. This setback was due, according to Anfac, to the situation in the European markets, which is where 68.2% of foreign sales went during the first month of the year. The main buyers of Spanish vehicles were Germany, France, the United Kingdom, Italy and Turkey, a country that once again entered the top five of the most important markets for Spain.