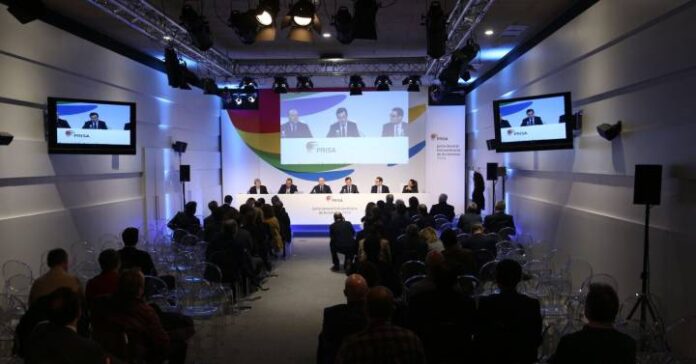 The extraordinary general meeting of shareholders of PRISA, publishing group of Five days and EL PAÍS, among other means, has approved the dismissal of Javier Monzón as president of the group. The proposal has been put to a vote at the request of the investment fund Amber Capital, the group's main shareholder, with 29.84% of the capital, since it was not included in the agenda, and has obtained the support of the majority of shareholders in a meeting held online. This was followed by a meeting of the board of directors, this afternoon, where the replacement for Monzón could be addressed.
The resignation has been approved by a narrow margin, with support of 52.2% from the board, which is equivalent to approximately 44% of the capital, since 84.5% of the capital was present or represented at the meeting. The main support for the proposal to terminate Monzón made by Amber has been that of Telefónica, with its 9.4% stake. 46.1% of the shareholders present at the meeting have voted against it, equivalent to 39% of the capital. 1.6% have abstained.
Javier Monzón (Madrid, 1956) joined the board of PRISA in November 2017. In February 2018 he was appointed vice president and since January 1, 2019 he was president of the board of directors. Businessman and economist expert in finance and technology, he was the head of Indra from its creation in late 1992 to January 2015. He also held various positions at Caja Madrid, Arthur Andersen and Telefónica, as well as being a member of various boards of directors of different societies.
The PRISA board has approved with a large majority all the items on the agenda, including the authorization for the sale of the Santillana Spain business to the Finnish Sanoma for 465 million euros. Other approved matters have been the remuneration policy for directors applicable for the years 2020 and 2021, the modification of articles 15 and 24 (formulation and verification of the annual accounts) of the PRISA bylaws and changes to the regulations of the board of directors of administration.
.