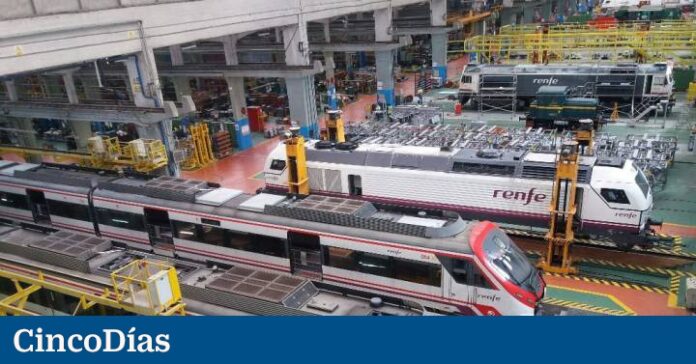 The CNMC has lowered the prices proposed by Renfe to open its workshops to competition that enters between 2021 and 2022 through the liberalization of passenger transport. The regulator has published a resolution this morning urging Renfe Mantenimiento to submit a new rate table for the provision of basic services within a period of two months.
The public company has 106 workshops throughout the country, while Ouigo (SNCF) and ILSA (Trenitalia and Air nostrum) depend on the opening of the same to other operators to be able to maintain their fleets. The first plans to operate in Spain with 14 trains and a maintenance agreement with Alstom, while the second intends to do it with 23 units.
The Railway sector Law regulates the workshops of the dominant operator and the CNMC interprets that Renfe Mantenimiento must provide services to third parties at "prices oriented to the cost of provision plus a reasonable profit".
More than 20,000 assets Among buildings, machinery or shunting locomotives, the Renfe subsidiary would not have used "amounts included in its accounting, but has chosen to estimate what these assets would currently cost," says the CNMC. In other words, the high degree of depreciation of assets used in train maintenance work has been ignored in the pricing, taking into account their replacement value at current prices, which raises the cost to other operators.
The CNMC believes that these rates have been increased "Artificially", which are contrary to article 101 of the Law of the Railway Sector (LSF). Where Renfe applies a margin over costs to calculate its reasonable profit, the CNMC claims that it takes into account the no risk by having the assets almost amortized. The regulator claims to rely on the modification of the LSF through Royal Decree-Law 23/2018.
In this case, Renfe will have to use the methodology of the Weighted Average Cost of Capital (WACC) which is applied in other regulated sectors, but with the parameters included in the resolution of February 23, 2017 for the railway sector.
The CNMC has stated verbatim that "the profitability of the assets obtained by Renfe Mantenimiento is much higher than the cost of capital calculated by applying the WACC methodology."