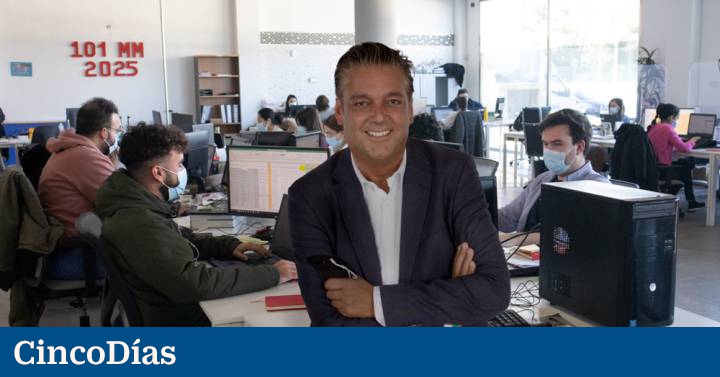 The Sevillian company Grupo R Queraltó, specialized in electronic commerce of health products and help for the elderly, closed 2021 with a turnover of 27 million euros, which represents a year-on-year growth of 25%. During the year, its EBITDA reached four million euros and its profit before taxes exceeded 3.7 million. And this despite the fact that, as they say, last year was very hard due to the pandemic due to the increase in the price of raw materials, the increase in international transport costs and the lack of stock.
"We are a 124-year-old startup, a fourth-generation family business that was born in 1898 and has been adapting its business to the new times, jumping on the digitization bandwagon about ten years ago," he says. to CincoDías Curro Abad, CEO of the company. The manager explains that They began distributing in a traditional way, first in Seville and then nationwide, medical and orthopedic material of European brands to hospitals and specialized stores. "But we saw that this was no longer enough if we wanted to continue being a profitable and attractive company to attract talent, and we bet on electronic commerce," he continues.
This commitment has allowed them to go from billing three million in 2015 to almost 30 million last year. Abad says that the results achieved in 2021 are in line with the growth and expansion objectives established for the coming years. The company plans to reach a turnover of 38 million this year, which would mean a growth of 40%, and reach 101 million in 2025, raising the EBITDA by 400% for that year, when they plan to have a presence in more than 30 countries. Today they sell in 15 countries, including Germany, France, Italy, Portugal, the United Kingdom, Denmark and the Czech Republic.
The international business contributes more than 40% of the group's total orders and 35% of its sales. Also 90% of their business comes from the e-commerce and only 10% of the supply of products to hospitals, clinics and health centers under the classic model. In 2021, its orders amounted to 732,411 with more than six million items supplied.
double strategy
The company, chaired by Reyes Queraltó, has a double B2C strategy (with its own online stores in different countries where it sells blood pressure monitors, heart rate monitors, leg exercisers, walkers for the elderly, wheelchairs, rehabilitation products, bathroom stools to the end customer. ..) and B2B (sales to pharmacies, orthopedic stores, etc.). The company works with nearly 15,000 pharmacies and more than 1,000 orthopedic establishments and small medical supply distribution companies. They have different B2B platforms to adapt to the singularities of each sector.
"Between 60-65% of our sales are to the end customer, and we do it both through our own online stores and through the main marketplaces Europeans, which has allowed us to become one of the leaders at European level in this speciality", continues Abad.
In 2021, and to boost its growth, the company, which for about 4 years has had its own brands (products manufactured in Europe and Asia), launched new lines of business, always focused on health and well-being, with articles for pets, childcare, sports and fitness and wellness at home, among others.
Those responsible for Grupo R Queraltó admit that maintaining the strong growth of recent years, based on current business figures, is not going to be easy, but they have defined strategies to achieve it: they will continue to launch new product ranges to expand their diversification; will create marketplace own B2C and B2B, to allow third parties to sell through their stores (such as Amazon or PcComponentes), and they will enter new countries, in addition to strengthening their position in some where they already exist but have been for a short time. Within five years, its goal is to disembark with delegations in some Latin American countries (Chile, Colombia and Peru) and the United Arab Emirates.
The CEO of Grupo R Queraltó boasts of the innovative nature of the company, despite being a hundred years old, and says that each year they allocate 5% of their budget to the development of new projects, many developed under the talent of their employees, who today number 50 Curro Abad highlights, for example, the comprehensive management software for e-commerce equipped with robotics and artificial intelligence for electronic commerce and marketplaces created by Rolando.Digital, today a spin-off by R Queralto.
The company does almost all of its logistics from Spain, where it has its own central warehouse in Seville and other logistics operator warehouses with which it works. One of its key partners in this field is Vapores Suardiaz. "Now 80-90% of our orders come from Spain and, although we are competitive with the service because we make very fast deliveries, we are working to close agreements with more logistics partners to have more local stock in the countries where we operate, which will allow us to be more efficient," says Abad.
Will the problems experienced in 2021 related to supply and the increase in the cost of transport and raw materials persist? The manager assures that it is difficult to know, but he believes that they will soften if there are no major macroeconomic and geopolitical problems. "The good thing is that we have had time to adapt and correct the price policy, because last year it was very difficult to transfer all the price increases to the market." "In addition, we have made a very important collection of products in the last semester in order to have a good level of stock now and guarantee that we do not have supply problems."
The CEO of R Queraltó assures that this year they have started with a 40% growth in income and 50% in EBITDA, and they trust that this last figure will be maintained throughout the year. "Ebitda in 2021 barely grew, although the result was good given the perfect storm that was experienced," Abad remarks.