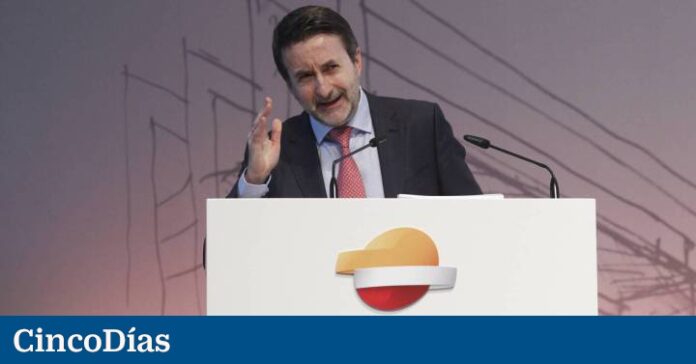 Repsol has reorganized its top management to adapt it to your brand new strategic plan. As explained by the company in a relevant event sent to the CNMV, the new organization responds to the objectives of transformation and acceleration of the energy transition, and is aimed at "the great business and corporate challenges" that it will address in the next years, and for those who will invest 18.3 billion euros.
In the new organization, Luis Cabra will be General Director of Energy Transition, Sustainability and Technology; attached to the CEO. For its part, Juan Abascal, until now responsible for M&A (Mergers and Acquisitions), sand incorporates the executive committee and will lead the area of ​​Industrial Transformation and Circular Economy, in which he will have a key position in the development of advanced biofuels, renewable hydrogen, synthetic fuels and decarbonization of industrial processes.
The CEO María Victoria Zingoni He will be responsible for the Customer and Renewables areas, two of the great growth vectors of the company. Likewise, as part of the promotion of digitization processes in the company, Valero Marin, until now Director of Information Systems and Digitization, will become the head of the Digitization and Global Services area.
Until now, the director responsible for the Liquefied Petroleum Gas (LPG) business, Carmen Munoz, takes over the People and Organization area.
In the general direction of communication, institutional relations and the presidential cabinet, the until now general director of People and Organization, Arturo Gonzalo, will replace Begoña Elices, who leaves the company after a long professional career. Antonio Brufau, president of Rpesol, thanked Begoña Elices for the work, who will continue to be part of the Repsol Foundation Board of Trustees. Arturo Gonzalo will also have responsibility for the Audit, Control and Risks area.
In this way, the Repsol Executive Committee is now made up of 10 members: Josu Jon Imaz (CEO), Luis Cabra (general director of energy transition, sustainability and technology, attached to the CEO), Antonio Lorenzo, (general economic-financial director), María Victoria Zingoni (general manager of customer and low carbon generation), Thomas Garcia (CEO of exploration and production), Arturo Gonzalo (general director of communication, institutional relations and presidency), Miguel Klingenberg (general director of legal affairs), Juan Abascal (executive director of industrial transformation and circular economy), Carmen Munoz (corporate director of people and organization) and Valero Marin (corporate director of digitization and global services).
.