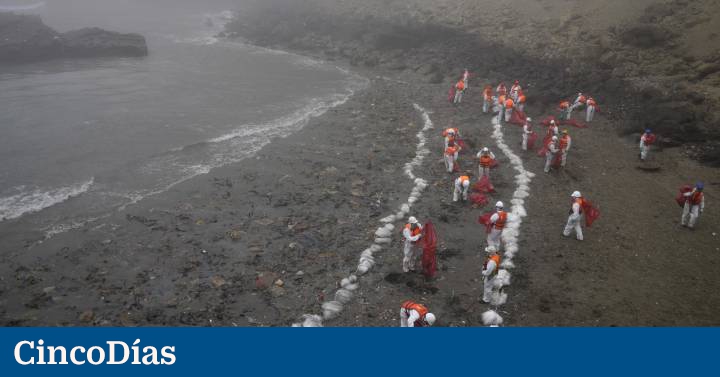 The Agency for Environmental Assessment and Control (OEFA), attached to the Ministry of the Environment of Peru, has imposed this Tuesday two new coercive fines against Repsol for almost 240,000 dollars (about 211,961 euros) for having failed to comply with the administrative measures issued after the oil spill that occurred just a month ago, on January 15.
As reported by the supervisory body on Tuesday, These two fines are added to the first sanction of February 10 and derive from the measures imposed by the OEFA on January 18, when it gave a period of between three and eight days for Repsol to comply with the identification of the areas affected by the spill, the cleaning and the containment of the crude oil.
Each fine is equivalent to 100 Tax Units (about 120,000 dollars), so the total amount that the Spanish company must pay amounts to 1,380,000 soles (about 358,800 dollars).
In addition, the OEFA also initiated three sanctioning administrative processes that could lead to three other sanctions for 55.2 million soles (about 14.3 million dollars).
In total, the Peruvian environmental authority imposed 14 measures on Repsol to guarantee the identification and cleaning of the affected area, as well as the proper management of solid waste and the rescue of contaminated fauna in protected natural areas, among others.
The spill occurred just a month ago when the Italian oil tanker Mare Doricum was unloading hydrocarbon from Terminal 2 of the La Pampilla refinery, which Repsol operates in the municipality of Ventanilla.
As a result of this leak, the Peruvian coast received the discharge of some 10,396 barrels of crude oilaccording to Repsol data, while the Peruvian authorities assure that there were 11,900 barrels.
The Spanish company indicated this Monday that the cleaning work had already made progress in 76% of the affected area, which according to its own data was 105 square kilometers.
Thus, Repsol is preparing to enter the final stage of beach cleanup, which expected to finish this monthwhile in March work will be completed in areas that require more detailed work, such as cliffs, rocky areas and reefs.
For it, the company deployed a team of more than 2,500 people and has been supporting more than 2,800 people that make up more than 30 groups of fishermen and merchants from the affected areas, while animal rescue efforts continue.
According to the National Service of Natural Areas Protected by the State (Sernanp), in the natural protected areas affected by the ecological catastrophe there have been more than 950 birds covered in oilof species such as the cormorant, the guanay, the Peruvian booby, the pelican
or the Peruvian gull.
Until February 9, the Sernanp found 208 dead birdswhile another 56 were rescued.