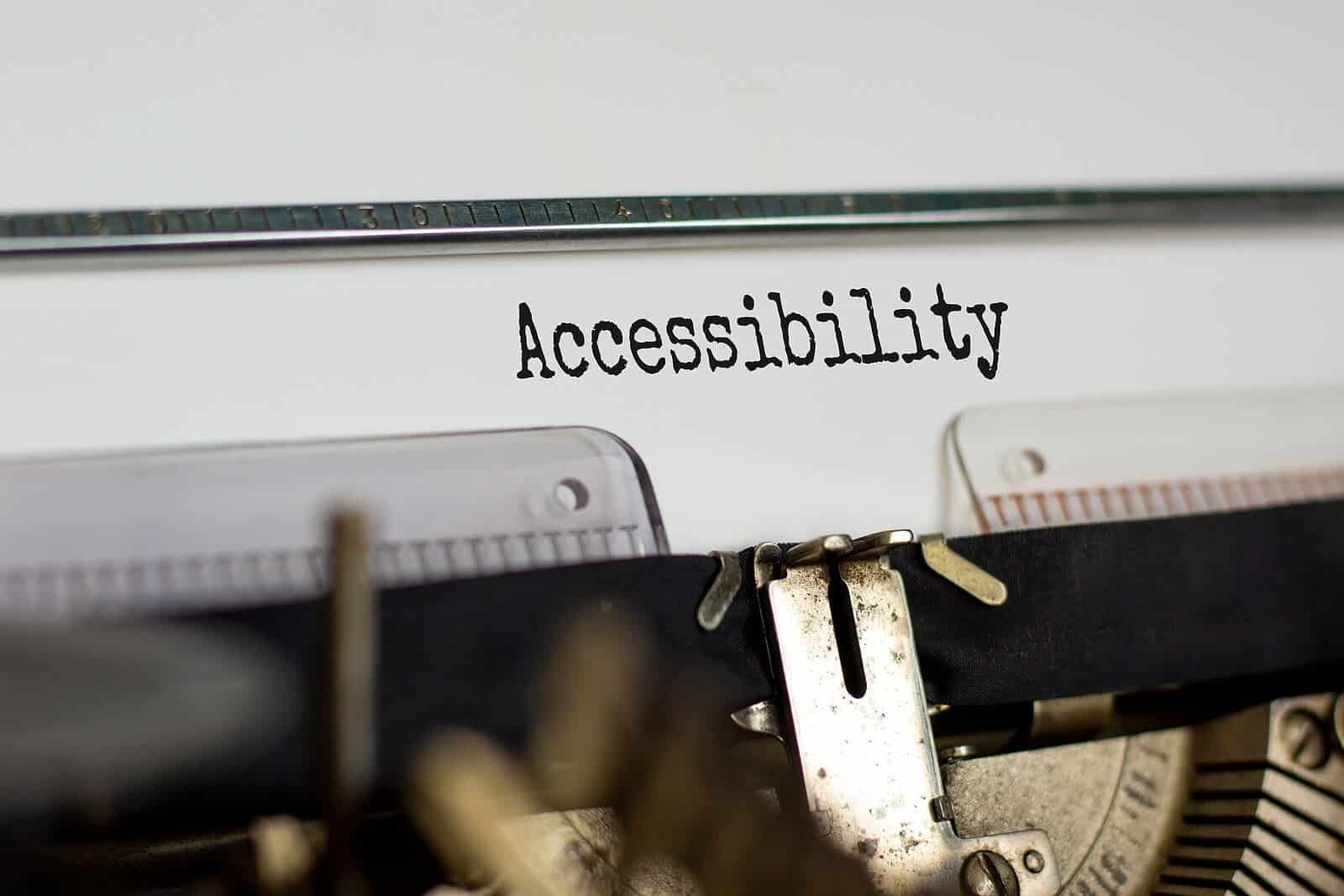 To put it plainly, website accessibility is essential for businesses around the globe. Compliance with Web Content Accessibility Guidelines (WCAG) allows people with disabilities to access content and enhances the experience for all users. Beyond being the "right thing" to do, supporting these inclusive practices makes a business more marketable and increases the value of its brand. In addition, websites for companies both large and small have been subject to lawsuits due to lacking accessibility for their consumers, so it's not only the right thing to do – it's the law.
In short, if you're looking for a worthwhile investment in 2022 to increase sales and grow your brand, let accessibility be your focus.
A Quick Overview: Accessibility Standards 101
So, where do we start when considering accessibility online? The goal is to remove any barriers that prevent a person from accessing and contributing to the web.  Consider the four main guidelines below from WCAG to analyze areas that require improvement.
Perceivable: A consumer can interpret content through the use of senses. Making content perceivable includes captions, text font and color choices, contrast, and sizing that makes the material easier to read.
Operable: A user can use the website with accommodations, including using a keyboard or other assistive technologies when the use of a mouse is not an option.
Understandable: A user can comprehend the website because it uses concise, easy-to-understand language. This also includes having information sequenced in a way that makes sense and simplifies steps. Replace complex language and multi-step instructions with a more user-friendly language to avoid confusion.
Robust: A user has access to the website because it is compatible with assistive technologies.
You can learn more about the ins and outs of why accessibility matters and what accessibility means, but this article will focus on the "how" of accessibility. Once you're convinced, it's time to get started. Below outlines three solutions to make it happen.
3 Types of Website Accessibility Solutions
There are three leading website accessibility solutions. Businesses can manually overhaul their website, hire a developer, or invest in an automated solution to make accessibility a reality. You've worked hard to create a website that showcases your business; now it's time to revamp and envision a space where all people can have access to your content through thoughtful and effective accommodations.
Adjust Your Website Accessibility Manually
When evaluating your website for accessibility, it is important to start with the highest traffic pages. As you navigate your website, ask yourself the following questions:
Are all aspects of the web page accessible without the use of a mouse? Can I navigate solely using a keyboard?
When using a screen reader, is content read logically?
Is the website concise, organized, and easy to understand?
Are headings and labels clear?
When viewing multimedia, are all videos accompanied with adequate closed captioning?
Are visuals accompanied by text descriptions that represent the content?
Of course, these aspects of your website accessibility only begin to tackle the basic needs, but it is a great starting point to determine the strengths and weaknesses of the site. In other words, when you're going to try to make the changes yourself, this is the place to start to get the most out of your time.
To help with identifying potential obstacles to accessibility, consider a free accessibility audit of your website. This will highlight the areas that are not compliant with web accessibility legislation. This gives your team-specific feedback and a starting point for further development.
Website Accessibility Solution – Hire A Developer
Developers are professionals at spotting and remediating gaps in inaccessibility. A checklist may seem exhaustive, but it lacks the understanding of how consumers with disabilities navigate the web.
A developer who specializes in accessibility solutions would be knowledgeable about the types of assistive technology, adaptive tools, and strategies that web users with disabilities utilize. Their experience would help to make your website compatible with assistive tools beyond the basics.
So, how does it work?
A developer will complete an evaluation of your website based on specific criteria. This accessibility check will help determine areas of weakness that require further development. While this free service is offered on websites, a developer will be able to create a plan that will prioritize the most critical gaps. Instead of having a to-do list, this would provide a roadmap to compliance through a series of solutions that a developer could offer. It can also provide a more clear picture of the end goal, allowing for realistic timelines and budgets to be put into place for overall compliance.
Website Accessibility Solution – Invest in an Automated Solution
Finding ways to make your website more inclusive is just the beginning. Once your website is compliant, how can a business keep up with the changes and updates that go along with maintaining a dynamic website?
The truth is that a website is ever-evolving and changing, and accessibility solutions will need to adapt and grow with the content. By investing in an automated solution, business owners can rely on AI and automation to maintain their website's accessibility.
In other words, AI technology can make maintaining compliance a reality. An accessibility widget completes daily scans that analyze and remediate problems from links to pop-ups, menus, dropdowns, and more.  The technology can even scan images and create alternative text descriptions where they are lacking. These automatic checks will take care of the accessibility features when your website is updated or revised. This proactive approach allows businesses to keep their content current and relevant while knowing the accessibility piece will be taken care of with this automated system.
Trusting the Experts
Undoubtedly navigating one's own website, hiring a developer, and AI technology all offer invaluable insight into accessibility strengths and weaknesses. An important part of evaluating true accessibility, however, remains with the user. The only way to know if these solutions are enough is by seeking feedback and suggestions from users themselves. The individuals reliant on assistive technology are the evaluators who matter in the mission to make website content available to everyone.
While making these changes may seem overwhelming, it is important to remember that accessibility solutions will benefit every user. As stated on the Web Accessibility Initiative (WAI) " …website accessibility is essential for people with disabilities and beneficial for all." These changes are part of the future of website development and imperative in creating an inclusive experience for all people to access websites and content.