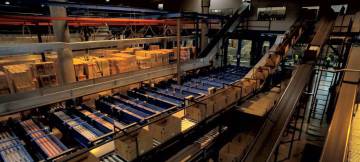 Logista recorded a net profit of 88 million euros during its first fiscal semester (from October 2021 to March this year), which represents an increase of 0.1% compared to a year earlier, after registering the negative impact of the sale of Supergroup, a subsidiary in France classified as an asset held for sale at the end of the 2021 financial year and whose divestment took place on February 2, 2022.
Likewise, the operating profit increased by 13.5%, to 128 million euros, as the good evolution of the adjusted operating profit (+6.3%) was added to the sale of two non-operating assets in Spain, which They have generated nearly six million euros of capital gains, higher results from the distribution of books and lower restructuring costs than in the first half of last year, as explained by the company.
Together with all this, the 7.7 million euros of financial results recorded in the period and an effective corporate tax rate slightly higher than last year have placed the net profit from continuing operations at 99.5 million euros, which which represents a growth of 9.4%.
Economic sales increased by 3% compared to the same period of the previous year, standing at 597 million euros due to the improvements registered in the distribution of tobacco, in Transport and in Pharmaceutical Distribution in Iberia, as well as in the distribution of convenience products in Iberia and Italy.
"Once again, the results of this first semester demonstrate Logista's solid business model, confirming the positive behavior that was already observed in the first quarter despite the complicated general context in which the activity continues to be carried out", he highlighted. the CEO of Logista, Iñigo Meirás.
Regarding the dividend, the general meeting of shareholders that was held on February 3 of this year, agreed to distribute a complementary dividend for the 2021 financial year of 110 million euros (0.83 euros per share), which was paid on the day February 24, 2022.
In this way, the total dividend corresponding to the 2021 financial year reached an amount of 164 million euros (1.24 euros per share), an increase of 5.1% compared to that distributed in the previous year.
In addition, on February 16 of this year it announced the acquisition of 70% of Speedlink Worldwide Express, a Dutch company specializing in express deliveries. According to the company, this operation represents Logista's entry into a new market and lays the foundations for Nacex's international development.