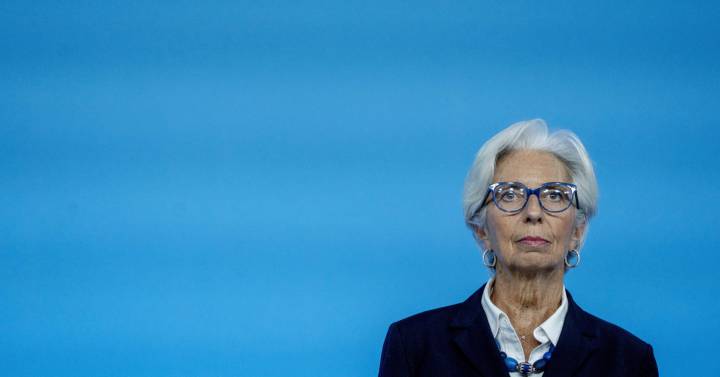 Christine Lagarde received a salary last year as president of the executive committee of the ECB of 421,308 euros, which represents an increase of 1.27% compared to the previous year and less than the rise in prices registered in the euro zone, which ended the year with inflation skyrocketed to 5% year-on-year in December. Vice President Luis de Guindos received 361,140 euros, also 1.27% more than in 2020, according to data published today by the institution.
Philip Lane, Fabio Panetta and Isabel Schnabel, all members of the executive committee of the ECB received a salary of 300,936, with an increase identical to that of the president and vice president. In 2021, Frank Elderson joined the highest decision-making body of the ECB, with a salary of 314,932 euros, which includes the days corresponding to December 2020 after he joined the position, replacing Yves Mersch.
The remuneration of the members of the ECB is completed with a medical and accident insurance item for 1,097 million euros. And with some commitments for pensions, which include those corresponding to former members, for 4.04 million euros
In the past year, the ECB obtained a profit of 192 million euros, 88.3% less than the 1,643 million it registered in 2020, due to a transfer to the provision for financial risks and the fall in interest income from the acquired debt and dollar reserves.
In fact, the ECB raised its provisions for financial risks by 610,000 million euros, to a total of 8.2 trillion. It did so to the maximum allowed by the institution's rules, in response to the increase in its assets on the balance sheet.
At the end of 2021, the consolidated balance sheet of the Eurosystem, comprising the assets and liabilities of the national central banks of the euro area and the ECB to third parties, stood at €8.566 trillion, compared to €6.978 trillion in 2020. The increase over the previous year was mainly due to the securities purchased under the PEPP and the APP and the increase in Eurosystem refinancing operations resulting from the third series of targeted longer-term refinancing operations (TLTRO III).