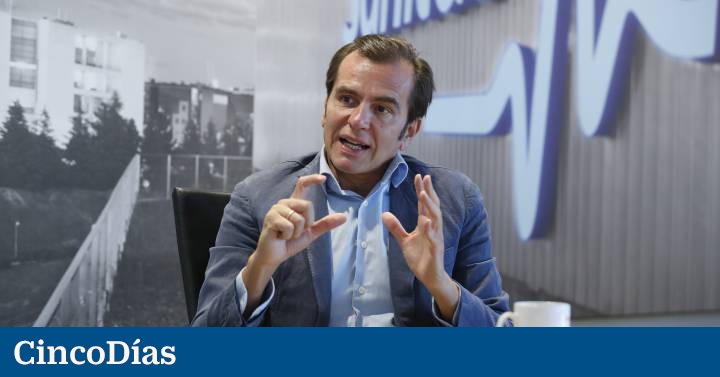 To the new CEO of Sanitas, Iñaki Peralta (Pamplona, ​​1973), he has had to take over the company at a particularly difficult time due to the coronavirus. Although the pandemic has left its mark on the insurer's profits in 2020, Peralta is optimistic and maintains that the recovery will return after "the parenthesis" last year. Sanitas' future plans are now focused on promoting digital medicine, sustainability and internationalization, but without forgetting Spain, "where we want to continue growing".
What economic impact has the coronavirus had on Sanitas?
The economic impact of covering the cost of this disease in the 2020-21 period will mean more than 50 million euros for the company. From an economic point of view, it is necessary to visualize that there is a new disease that has a cost and that, therefore, health after the Covid will require more economic effort.
Profit fell 11% in 2020. What do you expect for this year?
I am convinced that 2020 has been a parenthesis because there have been a series of special circumstances. On the other hand, we see that 2021 will carry the same trend as in 2019. And in that we are optimistic, because we see that everything has normalized.
The economic effect of covering Covid spending in 2020-2021 will amount to more than 50 million euros
Where is that recovery going to come from?
Of two of our business units that were greatly impacted by the coronavirus in their revenues in 2020. The first was that of hospitals. For three months, and practically almost exclusively, we only attended Covid and then deliveries, emergencies and issues that could not wait. And the second is that of our residences for the elderly, which are also clearly recovering occupation.
What other future plans do you have for 2022?
Where we have more strength is in the development of digital medicine, in addition to sustainability and internationalization. The development of the first is a digitization focused on services that add value and whose results we see in the satisfaction of our users. We went from having 300 video consultations to 5,000 in confinement. Now they have stayed at 4,000 every day. That is the best result that what we do in digitization makes sense.
What percentage do video consultations already represent?
In our centers it is one in three. To get to that point, confinement has helped us a lot. All the people used them and asked the same question: why have I been going to the doctor if I can do it like this? And there a change took place. It helped us convince people that it is a friendly experience and that many things can be solved that way.
What are the most used services?
There are many, but of the most used I would highlight two. The first are family medicine and emergency consultations, with 19% and 10%, respectively. The other big group is connected health. Patients with various pathologies that we have monitored through devices. With our medical platforms we can monitor your evolution 24/7. Thanks to this, the patient is carefree and eliminates his anguish.
How will they continue to promote telemedicine?
We have a team working on the digital medicine of the future. And also in all the part of services, such as administration or management of the insured with the hospital. We want to make life more pleasant for the Sanitas customer in all these processes.
And in sustainability?
We are putting the best efforts in caring for the planet. The health of this redounds to the health of people and vice versa. We are contributing to this with various initiatives. Decarbonizing our operations and those of our suppliers. Since 2009 we have reduced our carbon footprint by 70% and 100% of the energy we consume is from renewable sources.
Will Sanitas make purchases in this internationalization plan?
We hope so and in the European and Latin American market. Bupa has made Sanitas the leader of all its businesses in both markets. In January we acquired a company in Mexico [Vitamédica] and in June a hospital in Poland [Swissmed Hospital]. We have very large businesses in those areas and a lot to contribute.
Are you also looking for acquisitions in Spain?
We want to continue growing in our country and we would not understand Sanitas without acquisitions in Spain.
What responds to the criticism that Sanitas has been saturated and the quality of patient care has dropped in this time?
In my view, the quality of patient care in this time has risen. In extreme circumstances, we have been able to treat the Covid patients who arrived and, at the same time, many of our professionals from home were doing video consultations in order to provide a good service. When a tsunami like this appears and a company is able to cover it as we have done, it seems to me that it is a service that we have provided of which we are very proud. Sanitas has done a great job.
Are policy prices going to rise due to the coronavirus?
Covid is a pathology that did not exist before. That has an expense that is mutualized among the almost two million clients that we have. It is not a general increase due to the coronavirus. It will have a small impact on the evolution of the healthcare price index and, therefore, on policies.
Do you have crash plans for other diseases less attended by Covid?
Where we have put more resources has been in mental health. The pandemic, apart from the obvious physical effects, has had a high impact on this part. That is why we have greatly complemented our services in this area.
What percentage are the policies already contracted online?
It follows an upward trend, albeit moderately, and there is no great growth during the pandemic. In 2019 it was 8.2%; in 2020, 8.9%, and 8.8% so far this year.