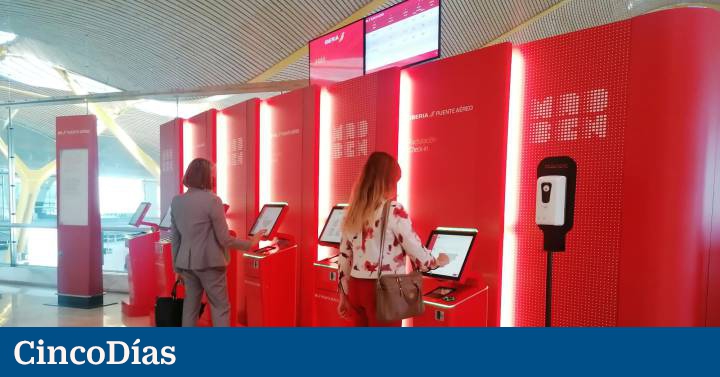 Expectations about the return of business trips have moved to Iberia to reinforce the Air bridge, between Madrid and Barcelona, ​​with the high-speed rail taking off. The route competes with Renfe and Ouigo, both with occupations that exceed 95% in their low-cost services and with record demand records last August. Despite this, the airline of IAG trust the success of your offer.
With the beginning of November, and until March 31, the Puente Aéreo will offer between 65 and 68 weekly frequencies. This translates into 11 flights in each direction from Monday to Thursday, days when Iberia serves a greater volume of customers.
The flight schedules will go from 7 in the morning until 9:00 p.m., taking into account the connections with other flights both at the Madrid airport and in the Catalan one.
The Air Bridge will have 11 flights in each direction from Monday to Thursday, days in which Iberia serves a greater volume of customers
The reinforcement announced this afternoon represents a 50% increase with respect to the programming of last winter season, when the Airlift had 43 weekly frequencies. The airline he presides over Javier Sánchez-Prieto qualifies Madrid-Barcelona as the route par excellence for corporate traffic in Spain and reiterates its commitment to this service. Before the pandemic, in the winter of 2019, the number of frequencies in winter was from 80 to 85 per week.
Reactivation of services
The improvement in the health situation will allow the reopening of the counters dedicated to the Aerial Bridge in El Prat from the 10th, as well as the security control and the VIP lounge near the boarding gates. With this, Iberia highlights, the advantage of arriving at the airport up to 20 minutes before departure time is recovered.
In Madrid, on the other hand, the counters and the security control of the Aerial Bridge have been open in T4 from the end of 2020. The novelty now is the extension of the hours of the Dalí Premium Lounge, from 6.00 to 23.00 .
Furthermore, Iberia Air Bridge customers have total flexibility to change their flight from the Iberia mobile application, "as many times as necessary and at no cost," the company recalls.