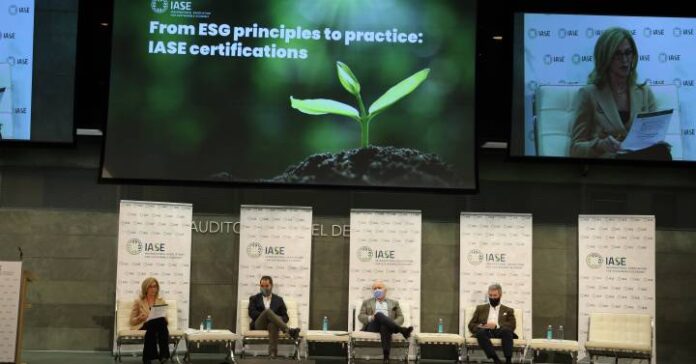 IASE (International Association for Sustainable Economy), the first international certifying institution for 100% environmental, social and governance (ESG) criteria, will promote its ESG certifications from 2021. Currently, IASE has a presence in more than 36 countries, where it offers coverage and provides certification services, with specialized training through partners academics to more than two-thirds of the world's population, according to the firm in a note.
These certifications grant the necessary knowledge and skills in matters of the environment, sustainability, social inclusion, gender equality and governance in all areas of society (governments, companies, financial entities, public administrations, communities, NGOs). IASE is the result of an international initiative that promotes professional certifications in the field of sustainability. These certifications also make it possible to improve job opportunities, providing a competitive and differential advantage in a scenario in which the importance of ESG in organizations has accelerated as a result of the Covid-19 pandemic.
The president of IASE, Carmen-Daniela Micu, who participated in the presentation ceremony in Spain held at the Rafael del Pino Foundation, explained that "the commitment to the ESG strategy is necessary so that companies can guarantee their survival and future growth, as well as its adaptation to the new international regulations and best practices. Our global vocation pursues that both companies and their stakeholders prepare professionally to implement more sustainable criteria in their organizations ".
Likewise, the president of IASE Spain, Jesús Castrillo, also stressed that "Spanish companies must have professionals adequately prepared and certified in ESG as a preliminary step for their sustainable transformation."
First exams in March 2021
The IASE certifications, which have been designed with the collaboration of professionals and academics, are aimed at very different profiles with different interests and needs. Specifically, the ISF (International Sustainable Finance) certification is for the financial sector, while the ISB (International Sustainable Business) is specifically aimed at the business sector.
The first exams to obtain these certifications, whose training processes are 100% online, will be carried out using online technologies on March 2, 3 and 4, 2021. Exponential Education is the only Educational Institution accredited in IASE.
Julio A. Fidalgo, Executive President of Exponential Education, points out in the statement that "this strategic alliance with IASE, which places us as an accredited Academic Institution for obtaining its ESG certifications, is the result of our effort to lead online training with a high added value for all types of organizations, where we place the person as the transforming axis of the economy towards a more sustainable environment ".