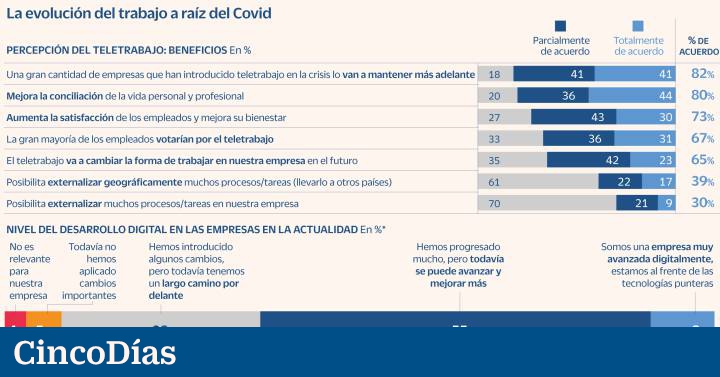 Digitization has advanced five years in a few months as a result of the pandemic, experts say. The health crisis has forced many companies to catch up with forced marches, but most are still not at an optimal level. It is what emerges from the Study of human resources trends, prepared by CEOE and Randstad and presented online this Wednesday.
55% of the companies surveyed consider that this year their digital development has progressed a lot, but that there is still room for progress and more improvement, followed by 28% who defend that they have implemented some changes, but still have a long way to go. Only 9% of companies consider themselves digitally advanced, at the forefront of cutting-edge technologies. On the other hand, the same percentage has not incorporated important changes or does not believe that it is something relevant to their performance.
This advance in digitization will bring with it significant automation of tasks and jobs. This is what 71% of the companies surveyed believe. Specifically, one in four maintains that in the next five years 20% of the tasks will have been automated. But this process will also generate new business opportunities, according to 45%. The transformation of existing professions or the emergence of new profiles will be the norm for years to come.
To face this transformation, the CEOE president, Antonio Garamendi, pointed in a clear direction: "The word training is going to be more important than ever." In this sense, the main priority for 40% of employers are developing transversal skills in employees, where communication skills, analytical skills, team management, the way of making presentations are included … A field that should be added to the concern for incorporating digital skills, which 27% of companies point to as a priority .
A demand that has fueled the pandemic and the subsequent boom in teleworking. "It would no longer be understood that someone had difficulties connecting to a remote meeting or sharing documents online," justified the director of Randstad Research, Valentín Bote. Furthermore, the digital surname appears closer and closer to these transversal competences. "Managing a team is challenging, but doing it remotely is even more complicated. Emotional intelligence also needs to be managed from a distance ", adds the spokesperson for the human resources firm.
Telecommuting
One of those responsible for accelerating these trends is the telecommuting. This leads the list of measures adopted in terms of flexibility: 51% of companies assure that they will implement it within three years compared to 26% who considered it before the pandemic. For their part, flexible entry or exit times (40%), intensive working hours (35%) and flexible vacations (29%), which occupied the podium two years ago, lose strength.
"There is no doubt that teleworking is here to stay, but it has to be implemented rationally and with consensus," Garamendi insisted. In principle, it seems that it has the majority support of the employees (67%), as it increases their satisfaction and well-being (73%), as well as improves the reconciliation between their personal and professional life (80%). All this without forgetting what was the great concern of human resources before the outbreak of the pandemic: the hourly record of the day. A challenge still pending for 39% of companies that have the option to telecommute.
Challenges in talent management
New course. Beyond the challenges left by the pandemic and the new ways of working derived from it, the 2021-2022 academic year also starts with its own challenges.
Loyalty. Retaining, motivating and involving staff is the main axis on which companies will have to work in the immediate future (19%).
Long term. The second place is occupied by the need to boost the career growth of employees, helping them to develop as leaders (12%).