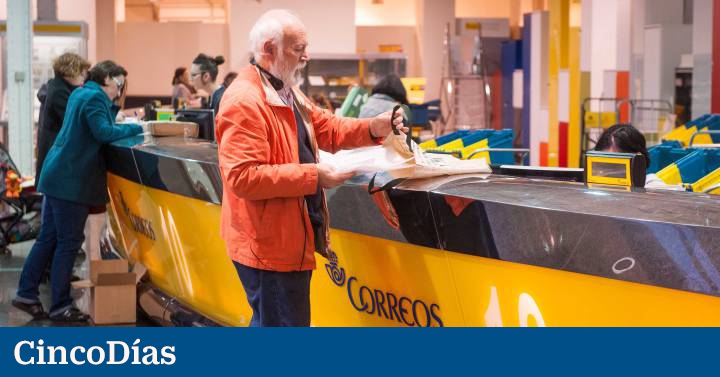 Correos does not stop its commitment to commercial alliances. The postal company is studying new agreements that allow it to expand the portfolio of services it offers in its offices with the aim of increasing its profitability and for this it has focused on the tourism and leisure sector.
In recent years, Correos has sought to take advantage of the capillarity it has throughout the Spanish geography thanks to its branches, especially in the so-called Empty Spain, to provide third-party services and has sealed agreements with energy companies, insurance companies, financial entities, teleoperators and transport. Also with public administrations to carry out more and more procedures. In the coming months, it could add services related to leisure and tourism.
"At Correos we are aware of the diversification that must be made of the business. That is why we have concluded agreements with companies to offer products and services that are aligned with our vocation of public service and of leading the company to profitability. We would be delighted to announce agreements with travel agencies. We also have some agreements in the leisure sector and we will continue to expand them ", he explains to Five days Manuel Ángel Zapatero, director of products and services at Correos.
And it is that, since Juan Manuel Serrano acceded to the presidency of Correos, the company has turned to take advantage of its 2,370 offices throughout Spain to bring the citizens of rural Spain closer to basic services without having to travel.
With regard to financial services, the post offices commercialize the Mastercard Prepaid Post Card that serves as a payment method and to have cash in offices and ATMs, not linked to any bank account. Likewise, it has agreements with entities such as Banco Mediolanum, Evo Bank and Triodos Bank so that the branches can carry out basic banking operations such as income, checks or credits. In addition, it closed a agreement with Santander to offer cash withdrawal and deposit services at more than 4,600 Correos citizen service points and take money to any address in Spain through postmen.
Light and insurance
Correos also maintains a collaboration agreement with electricity and gas companies, through which potential clients can be detected for the possibility of commercializing electricity and gas services. In fact, according to the data provided by the postal company, it has derived up to 200,000 potential clients for Endesa, Naturgy and Repsol at this time.
In the insurance sector, Correos also allows you to market Mapfre products and 100,000 potential clients of the insurer have been referred. This same week the state company has also signed an agreement with Caser. Likewise, thanks to an agreement with Renfe, it allows you to purchase tickets for the AVE.
"The objective is for Post Offices to become a fundamental agent for the supply of these products and services. That is why we want to consolidate the agreements we already have and expand them to bring products to any point in Spain ", Zapatero points out.
Administrative procedures
In addition, Correos offers more and more services related to the Administration, among which the Virtual Entities Registry Office (ORVE) stands out, which has carried out more than 600,000 procedures. In this way, Post offices send digitized documents addressed to Autonomous Communities, the General State Administration, the Tax Agency, and more than 1,100 local entities.
Thus, in the Post offices you can pay taxes, receipts for any supply, traffic sanctions, recharge mobile phones, buy tickets for leisure activities, or lottery.
"We would love to be a one-stop shop for administration. There are many procedures that can be done from Correos and the essence is the same: to make life easier for citizens ", concludes the director of products and services of Correos.
Deck to create an airline and railway company
Cargo airline. This week, the president of the Post Office, Juan Manuel Serrano, revealed that the public company is studying the launch of an air cargo line that would represent another step in its transformation as a global logistics operator. Correos already entrusted KPMG Asesores with consulting services last July to analyze the viability of the air transport service by Correos, according to a document published on the state contracting platform. This possible launch is part of its growth strategy, in parallel with its implementation in China and other international markets.
Joint venture with Renfe. In parallel, Correos is studying creating a joint venture with Renfe to operate in the parcel transport sector by train. Correos raises this possible future agreement at a time when the Government, together with Adif and Renfe, wants to promote the transport of goods by rail, which in Spain is limited to only less than 5% of the total. The shareholding distribution would be 50% for each of the two public companies.