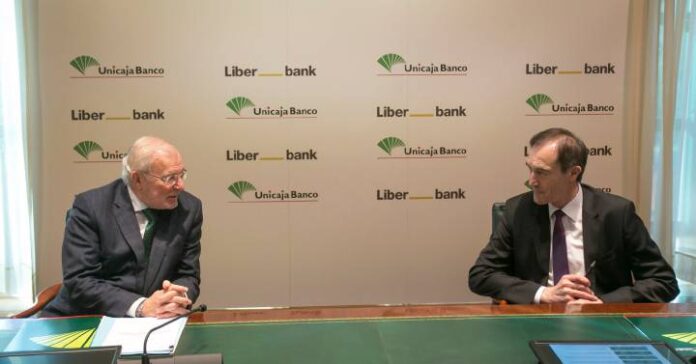 Unicaja and Liberbank plan to change in two years, starting from the start of the entity resulting from their merger, which is expected for mid-June or July, the structure of its leadership, with the elimination of executive functions of the position of president. "In two years we will adapt the governance schemes" to the requests of the ECB, Unicaja president Manuel Azuaga acknowledged on Wednesday, who will also retain this executive position in the new entity resulting from the merger and who will continue with the Unicaja brand.
Azuaga, who will leave the post in 2023, after reaching 75 years of age, will be replaced by a non-executive president, as required by the ECB and is included in the merger protocol. This change will also alter the distribution of proprietary and independent directors, since then there will be two executive directors (in addition to Azuaga, Manuel Menéndez, now CEO of Liberbank, will be on the board as executive, a position that he will maintain in the bank resulting from the fusion).
Coinciding with that date, the board will vote on whether to renew Menéndez in office or not, and if so, he will become the first executive of Unicaja.
Currently, the number of independent directors is 6, compared to 7 proprietary directors, who now represent 47%, to which are added the two executive directors.
The ECB prefers boards with more independent members than proprietary members, although in Spain the CNMV's good governance code is more flexible, since it understands that stable investors with more than 50% of the capital can have a weight equal to or greater than that 50% .
Governance has been, precisely, the main sticking point in the last month to approve a merger that began to be negotiated in October 2018, although negotiations were broken in May 2019 and resumed in September 2020.