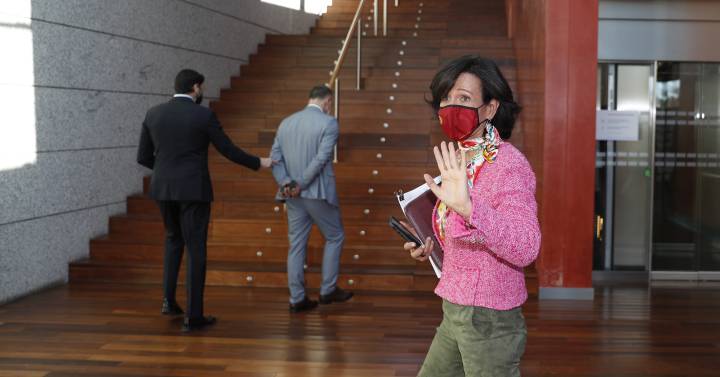 The variable remuneration plans that Banco Santander approved in 2016 and other more recent ones, up to last year, materialize. This Thursday, the president of the entity, Ana Botín, and another 16 directors of the bank have informed the CNMV that they have received 2.86 million shares of the entity, valued at around 10 million euros.
For years, Santander has had a remuneration policy in force that assumes that executive salaries are made up of a fixed and a variable remuneration, which is made up of a single incentive, the so-called deferred variable remuneration plan and linked to multi-year objectives. 40% of the variable remuneration is paid immediately, but the remaining 60% is deferred for five years to be paid in fifths.
In the communications registered with both the CNMV and the London Stock Exchange (LSE), it is specified that 17 members of Santander's leadership, including its president, have received income from shares for payments under plans that, depending on the case, they began in 2016. They also include the immediate payment of the variable part set in 2021.
Ana Botín has received 454,453 shares, with a market value of 1.53 million, while the CEO, José Antonio Álvarez, has 303,733 shares in his account, with a current valuation of just over one million euros.
Among the directors who have communicated their variable remuneration, both the fixed part and the variable part, there are also María Alexandra Teixeira Peres Brandao, Antonio Pedro Dos Santos Simoes, Marjolein Van Hellemondt, Mónica López-Monís Gallego, José Luis de Mora Gil-Gallardo, Javier Maldonado Trinchant, Juan Guitard Marín, Juan Manuel Cendoya Méndez de Vigo, José Francisco Doncel Razola, Dirk Marzluf, Keiran Foad, José María Linares Perou, Jaime Pérez Renovales, Víctor Matarranz Sanz de Madrid and José Francisco García Cantera. These add up to 2.1 million shares, which are valued at more than seven million euros.
The president of Banco Santander, Ana Botín, received a total remuneration of 6.81 million euros in 2020, 31.5% below the 9.95 million she earned in the previous year, after having decided to reduce by half his fixed salary and bonus for the Covid-19 pandemic.
The reduction in the total remuneration of Ana Botín in the year of the outbreak of the pandemic was 31.5%, with 6.81 million compared to 9.95 million a year ago, when adding other concepts, such as contributions to pension plans, insurance or diets.