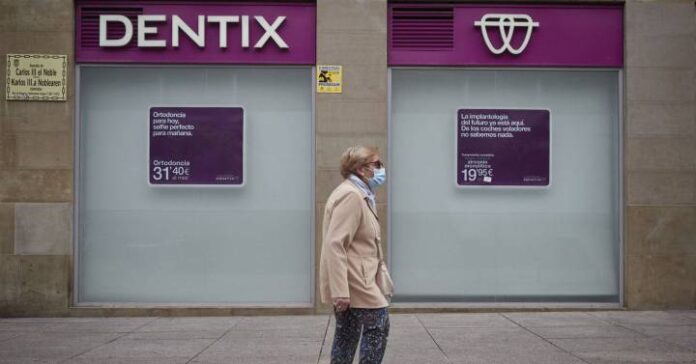 The venture capital fund Advent International has presented an offer for the acquisition of 80 Dentix clinics in Spain, as well as the Dentix brand, which will involve the resumption and completion of pending treatments of patients affected by the bankruptcy of the chain of clinics dental care and maintenance of employment linked to the 80 clinics.
As reported by lus + aequitas, the firm in charge of managing the Dentix bankruptcy, Advent International's offer, presented in the Commercial Court number 2 in Madrid, has the support of the largest financial institutions for patients from the company and the favorable report from the Dentix bankruptcy administration.
"We are very satisfied with this first step reached from the consensus and the responsibility of all those involved, especially on such special dates and after so much uncertainty", said the representative of the bankruptcy administration, Eliseo Martínez.
At the same time, and as an integrated part of the offer, Advent International makes a bridge loan available to bankrupt Spanish companies in order to reopen a considerable number of Dentix clinics "quickly and safely" and provide a solution to pending treatments. of patients.
Specifically, the venture capital fund will finance the reopening of the clinics and will assume on behalf of Dentix, with the support of Pepper Money, BBVA, Cetelem, Abanca Servicios Financieros and Sabadell Consumer Finance, the expenses necessary for the reopening in safety conditions and operational in the first weeks of 2021.
The request, according to the statement, has been "immediately" processed by the court, providing today a period of five calendar days for the parties to make allegations or present improvements in the offers.
For its part, lus + aequitas has stated that it is collaborating with the fund "so that the success of the sale and purchase operation occurs as soon as possible within the bankruptcy process and thus avoid the deterioration of the operational situation of the clinics subject to sale, as well as possible damages for Dentix patients ".
"We want to inform Dentix patients that, as we said in our previous statement, they continue to be our top priority as the main stakeholder, along with workers, creditors and other affected parties," the text underlined.
In this way, since last Monday, and after the agreement reached with the company's shareholder to facilitate this process, the bankruptcy administration of the Spanish companies of the Dentix group have passed from the initial regime of intervention of the social administration body to a new substitution regime in all its faculties.
Dentix filed for voluntary bankruptcy in early October due to uncertainty about the possibility of reaching a refinancing agreement. The dental chain decreed in mid-November the temporary closure of all its clinics in Spain. Its staff, made up of some 2,600 people, has been included in an ERTE due to force majeure.
.