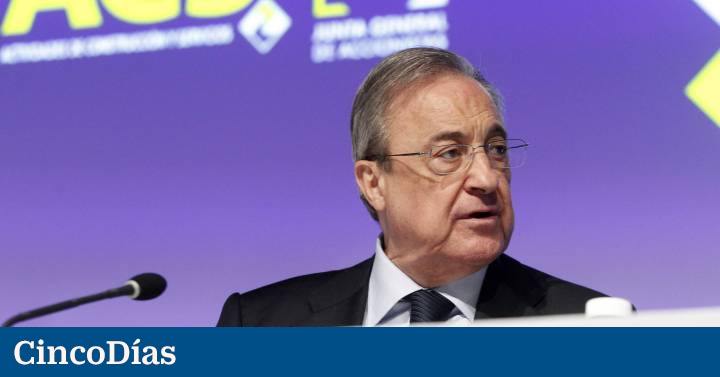 The next meeting of ACS will be the appointment of a new CEO for the group after the position he held became vacant Marcelino Fernandez Verdes. The new creation of this figure responds to the organizational restructuring of the company after the sale of the Industrial Services area to Vinci.
The favorite to occupy the executive position next to Florentino Perez is Juan Santamariaman of the house who is currently in charge of driving the Australian Cimic as CEO. Young and with international experience, Santamaría has held positions of high responsibility in ACS's construction and concession businesses. And throughout his career he has known in the field two strategic markets for the company, United States and Asia-Pacific.
Pérez has also indicated this morning to analysts and investors that a dividend that "will be around two euros per share"from the 1.88 euros paid from 2020. The president of the infrastructure group has asserted that raising remuneration and sustaining it is possible thanks to the large divestment closed last December.
DHW ended 2021 with a net profit of 3,045 million. Key to this has been the sum of extraordinary results of 2,325 million in 2021, due to the sale of the Industrial Services area to Vinci for 5,580 million.
More Abertis
ACS aspires to increase its direct participation in Abertis from the 30% that it currently controls. Its intention is to acquire 20% in the hands of its German subsidiary Hochtief, which would be done, according to Florentino Pérez, in agreement with Atlantia. The Italian is the main shareholder of Abertis, with 50% of the capital plus one share, and has 15.9% of Hochtief.
The funds obtained from the divestment in the industrial area should serve to reinforce ACS in the highway concession business. Pérez stated that investment opportunities are being sought especially in the United States, and added that these could be undertaken directly, if they involve work, or through the aforementioned Abertis if they are mature assets.
The largest Spanish infrastructure group, and the most international in the world, is working on simplifying its structure. The first step has been launch of a takeover bid in Australiaa valued at 950 million euros for which Hochtief would climb from 78.6% of Cimic's capital to 100%. The chairman of ACS has also referred to the brand integration project in other geographies, citing the case of Flatiron and Dragados in United States.