If you're looking to grow your business, you will need a steady flow of clients. For service-based businesses, this is even more important. Some of these businesses have clients who only need services once, so they can't count on repeat purchases.
A strong referral program is one of the tried-and-true ways to draw in new clients and promote brand awareness. As part of a robust marketing strategy, a referral program offers excellent return on investment.
What Is a Referral Program?
Referrals often come from people within your network, such as colleagues and past clients. You may also receive referrals from industry professionals or established business partners.
Many referrals will happen naturally as clients share positive experiences with friends and family. But you can build a structured referral program to generate better results.
One of the biggest benefits of a formal referral program is that it uses authenticity to facilitate referrals and rewards for the people in your network.
Here are some benefits of referral programs:
Authenticity: Referrals come from trusted sources, so they act as word-of-mouth marketing. People are likely to take recommendations from people they trust, especially if the experience was positive.
Transactional value: The client making the referral and the client receiving it are rewarded with a referral program. Depending on your business, this could be a discount, cash-back offer, or other incentives.
Trust: Advertising comes from a business, so of course it's not going to say anything negative. Referrals come from real people with real experiences, so it carries more influence. When referrals come from other businesses, people trust that they're recommending a business that will reflect well on them.
Other professionals and non-competing businesses can be a huge asset to a referral program. You return the favor, and both of you get some help drawing clients to your businesses.
Here are some common options for referral sources:
Clients
Nearly all referral programs rely on clients. Current clients are often happy to share their experience with others, especially if it was positive. Their recommendations are genuine to the people they refer.
That doesn't mean past clients can't have value. Even if you haven't helped a client in a long time, they remember positive experiences. Following up with them gives you an opportunity to rekindle the business relationship and request that they participate in your program.
Family and Friends
Your personal social networks are a great start for a referral network. It's likely that your friends and family would use your services if they needed them, so they should be happy to refer you to others.
Employees
Employees can be a referral source. Often, businesses discount the value of their employees for promoting their business. They feel passionate about your business and what it has to offer, so they can be among the best types of referrals. They also know the business well and can share information with potential clients to nurture the sale.
The sales and marketing teams have the most knowledge for referrals and an in-depth understanding of the clientele and your services, so they can be compelling in their referrals. These teams also have suggestions for business partners or industry professionals that can be beneficial.
If your business is large, don't overlook other departments like human resources or customer service. They can be part of the referral program as well.
Business Partners
Building relationships with non-competing businesses and industry professionals has a lot of value for your referral program. If you have a shared audience and you can refer your businesses to each other's clients without creating more competition, it's a boon for your potential reach.
Companies that have complementary products or services are the best choices. For example, a family therapist and a family law attorney may have a lot of similar clientele and excellent opportunities for referrals. The same is true of personal injury attorneys and physical therapists or healthcare providers.
Often, referrals can come from businesses that happen in coordination with your own. For example, a veterinary clinic may have clientele in need of dog grooming, pet-sitting services, or dog-walking services, and having a referral partnership allows both to promote each other while also serving their clients.
Influencers
Influencer marketing is a paid channel, unlike the other referral partners. It offers similar benefits to word-of-mouth marketing, however. An influencer's followers are dedicated and put a lot of trust into the influencer's recommendations, giving them a lot of sway and power. When they promote a business, people listen.
You can find a range of different influencers in different industries. It's best to start with a list of influencers that seem like the right fit for your industry and business, then reach out to ask for a collaboration. If you have multiple choices, try to narrow the list by the influencers with the closest audience to your own and a passionate group of followers.
Influencers do need to be paid, in most cases. Though it's not always with cash. Some influencers are happy to provide brand recommendations or sponsored reviews in exchange for free products. However you compensate your influencer, make sure to include it in your marketing budget and evaluate the results to ensure it's a good return on your investment.
Create a Referral Program
Referral programs can be a powerful form of marketing and client acquisition for your business. When you find the perfect referral partners, develop your referral program with incentives for their referrals and enjoy your steady stream of new clients.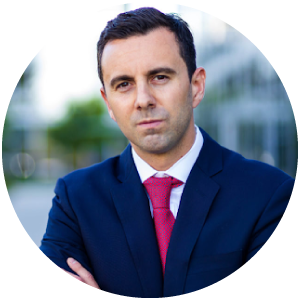 Author Bio :
Maxwell Hills is the founder of Hills Law Group, a premier Orange County divorce lawyer law firm with a concentration on high net worth divorces. Max's entrepreneurial career stretches back to his teenage days when he had his music used in Grey's Anatomy and ESPN. Today, Max has used that experience to build Hills Law Group with 0 customers and $0 in revenue to a respected firm in the industry.