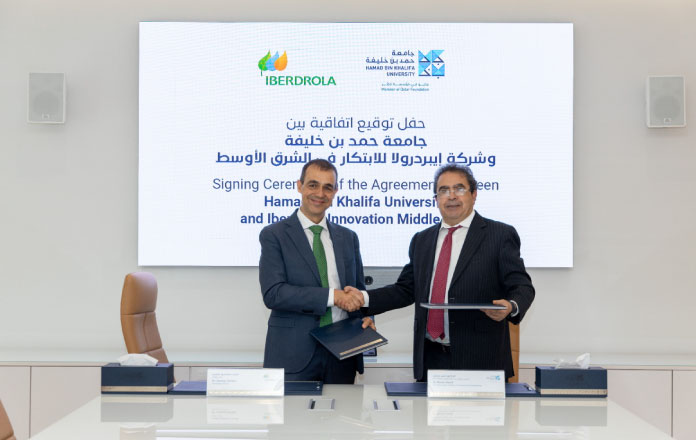 Agreement advances high-impact innovation to address energy and environmental challenges
Doha, April 7th 2022 – Aiming to advance high-impact innovation in sustainable energy, Hamad Bin Khalifa University (HBKU) will collaborate with Iberdrola Innovation ME on research and development in the area of cybersecurity for the smart grid.
Under a new collaborative agreement, HBKU and Iberdrola Innovation ME will work to enhance the technology being used in smart grid field deployments in the region. Leveraging respective expertise in cybersecurity and innovative energy solutions, joint efforts will encompass research studies, intellectual property, and commercial collaboration on smart grid telecommunications and security mechanisms.
Smart grids are regarded as a "technological leap" to advance new models of electricity consumption and decarbonization. With the ability to operate with energy from renewable resources and incorporate digital technology, the huge volumes of data generated by smart grids require effective security solutions.
HBKU, through its College of Science and Engineering (CSE), and Iberdrola Innovation ME will both avail faculty, staff, and resources for a research project focused on security techniques for power line communications. Dr. Roberto Di Pietro, Professor of Cybersecurity at CSE, will extend his expertise to the joint project team of research scientists and smart grid engineers. Expected outcomes include peer reviewed scientific publications, jointly owned patent applications and, ideally, subsequent commercialization.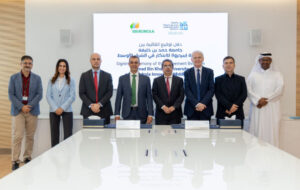 Dr. Mounir Hamdi, Founding Dean of CSE, Dr. Richard O'Kennedy, Vice-President for Research, Development and Innovation (RDI) at Qatar Foundation (QF) and VP for Research at HBKU, with senior officials from the Office of Industry Development and Knowledge Transfer (IDTK), part of QF RDI, attended the official signing ceremony with Santiago Bañales Lopez, Managing Director, Iberdrola Innovation Middle East, Javier Hernandez Fernandez, Technical Director, Iberdrola Innovation Middle East, and other officials.
Speaking about the collaboration, Dr. Mounir Hamdi, Dean of HBKU's CSE, said: "This new agreement is based on our long-standing relationship with Iberdrola, which is focused on knowledge-driven innovation. We foresee this cooperation actively contributing to Qatar's energy transformation with a very positive impact on smart, sustainable cities initiatives."
Iberdrola Innovation ME was established at Qatar Science and Technology Park (QSTP) in 2016, where the Iberdrola Technology Centre undertakes cutting-edge projects in smart grids, renewable integration and energy management. In October 2021, Iberdrola Group created the Global Smart Grid Hub in Bilbao, a global centre for innovation in smart grids, which combines its technological capacity with that of experts around the world.
Santiago Bañales Lopez, Managing Director, Iberdrola Innovation Middle East QSTP said: "Our agreement with HBKU reflects our commitment to Qatar's research, development, and innovation system and boosting knowledge in specific areas of science and energy. Our collaboration will ensure that our joint efforts are at the forefront of solving Qatar's energy and environmental challenges by advancing solutions for its smart grid capabilities."
For more information on the programs and research at the College of Science and Engineering, please visit cse.hbku.edu.qa
About Hamad Bin Khalifa University
Innovating Today, Shaping Tomorrow
Hamad Bin Khalifa University (HBKU), a member of Qatar Foundation for Education, Science, and Community Development (QF), was founded in 2010 as a research-intensive university that acts as a catalyst for transformative change in Qatar and the region while having global impact. Located in Education City, HBKU is committed to building and cultivating human capacity through an enriching academic experience, innovative ecosystem, and unique partnerships. HBKU delivers multidisciplinary undergraduate and graduate programs through its colleges, and provides opportunities for research and scholarship through its institutes and centres. For more information about HBKU, visit www.hbku.edu.qa.
ABOUT IBERDROLA INNOVATION MIDDLE EAST
Defining the Digital Utility
With over 100 years of history behind us, Iberdrola is a global energy leader, the number one producer of wind power, the largest European utility and one of the world's largest electricity utilities in terms of market capitalization (~70 billion dollars). The company is present in the US, the UK, Continental Europe, Latin America, the Middle East, Asia and Australia. Representing the central point of the Iberdrola group's activities in the Middle East, Iberdrola Innovation Middle East, located at the Qatar Science & Technology Park, was launched in January 2016 to tackle the practical technology challenges related to innovation and digitalisation of the electrical grid. In line with the group's strategic pillars, the centre's work focuses on three core areas: smart grids, renewables integration and energy management. It offers three types of services to the company's customers and stakeholders, all emerging from the companies R&D core activities: energy services, training, and advisory services. For more information about Iberdrola Innovation ME, visit innovation-me.iberdrola.com