Water is precious to human beings, but when it takes another form, it will indeed offer damage and casualties. However, this damage can be in any form, be it a natural disaster or due to human error like a storm, burst pipe, sewage backup, and many more. In short, water damage is a nightmare for homeowners as they have to deal with various things simultaneously.
According to water damage restoration professionals, the water damage in the home results from very simple reasons which you ignore and don't inspect the home regularly for any faults. So, if you want to quickly come out of this distress, ensure to act quickly so that water will cause further damage to your home.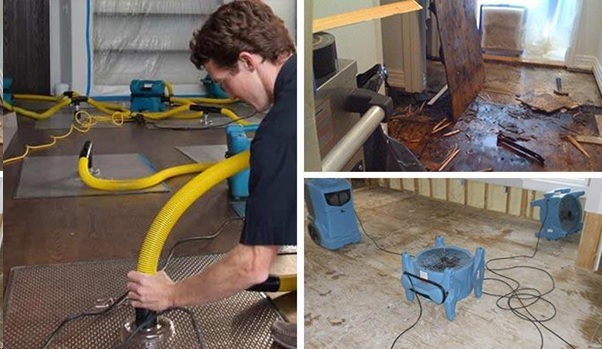 In short, take some proactive steps regarding water damage which will help you to mitigate the effects of water damage easily and quickly. So, if your home or property has suffered from water damage, take the below seven best steps, which will help to recover soon so that your home will be restored like before.
Ensure to locate the source of water
 This step will be your top priority so that you can prevent the home from further damage. There are many causes of water damage in your home, like a leaky pipe, burst pipe, broken electrical appliance, etc. Whatever the cause, find and stop the source of water.
According to experts, the sooner you will locate the source of water damage, the overall cost of repairing will be low. So, act quickly to make your dream home safe and secure.
Dry the location
After locating the source of water and stopping it, your next step must be to dry the location or home. The reason is mold and mildew can start growing if the water stays in your home for more than 24 hours. However, to dry the affected area of your home, ensure to empty the area that includes furniture, carpets, rugs, etc.
After that, take the help of fans, open doors, windows, etc., to dry the flooring and walls. However, if the water damage is in excess, you can rent out a few of the industrial equipment like big fans so that the affected area can dry quickly. Apart from that, you can also take the help of household things like a mop, towels, etc., to make the drying process fast.
Call the insurance company.
Once the water subsides, contact the insurance company as soon as possible, but you will get the claim if your insurance covers water damage. However, if the water damage is covered in the policy, the company will arrange an adjuster who will come to your home to assess the overall damage and determine how much claims you will get for the damage.
Moreover, if you have a flood insurance policy, then start taking pictures of each and everything before, during, and after water damage. In addition to that, document the value of everything so that the adjuster doesn't miss anything when they come to your home. Here the water damage restoration company in murrieta which you have hired will help you in documenting things as they have enough knowledge about these things.
Inspect the home for mold
When you are dealing with water damage, ensure to inspect for mold and mildew. If the water damage is excess, the mold will start growing quickly, and you will find them in the air, drywall, and various other surfaces. However, if you want to make your home safe, ensure to remove mold as soon as possible as it can cause various health-related issues. Common signs of mold are: –
Musty odor
Discoloration or moist patches
Green or black spots on carpets
Yellowish tinge on ceilings or walls
However, if you find these signs, ensure you must hire the mold restoration company as they very well know what steps to take to remove mold permanently from the property. But if the mold is less, then you can apply some household methods to remove it by wearing protective gear so that they will not contact your body.
Protect yourself and the family
 In case of flooding or water damage, staying safe is one of the most challenging tasks as you panic and get confused after watching so much damage. But not to take tension, we are here to help you.
Turn off the main electrical power of your home. The reason is if water and electricity get mixed, it can offer shock.
Ensure to wear protective gear like rubber boots, gloves, etc., that will help you to protect against cuts, injuries, and also from contaminated water.
Every home has valuables, so lift all the wood furniture from the affected area and ensure to place aluminum foil under the feet of the furniture to avoid staining. Also, remove all the rugs and carpets from the floor.
Decide what to be restored after water damage.
 If you are not aware of what things need repair and what needs replacement, then taking the help of a water damage restoration professional is a great idea. The reason is the professionals very well know how to deal with the situation in the best possible way. That means they will do better work restoring parts of the home that only need repair.
In addition to that, due to high experience, they will guide you on what items can be restored after cleanup.
Disinfect the affected area
 It depends upon the water you are tackling. That means, if the water is black or gray, it contains lots of bacteria that can cause lots of health-related issues. Apart from that, due to excess moisture, mold and also grow, which is quite hazardous.
So, after removing all the damaged material, sanitize your home as soon as possible. However, you must use the best spray to clean the area or surface so that bacteria will get cleaned from deep.
The bottom line
 The issue of water damage restoration is quite daunting, which takes lots of patience and hard work. So, as soon as you notice water damage in your home, ensure to start applying the above tips, which will help you to restore the property quickly. Apart from that, if the water damage is massive, don't forget to call the best water damage restoration company for the work, as you cannot handle excess water damage without experience.
But make sure you only call L&S Turnkey for the work after thorough research so that your money will not in vain.