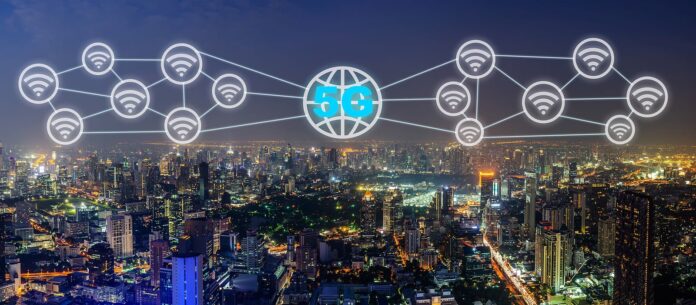 Although 5G or the 5th Generation of wireless communication promises to deliver super-fast data transfer speeds, minimal latency (the time delay between sending out a signal from a device and it's arriving in a usable form at its destination), and the ability to connect many more devices simultaneously than is possible at present, 5G providers of core technology, infrastructure, network services, and consumer goods are still developing the equipment and mechanisms needed to allow 5G to meet its full potential.
That said, a number of 5G network providers are already in operation around the globe. In this article, we'll be looking at some of the providers of 5G services, what they currently have to offer, and the challenges they are having to meet in delivering to consumers.
5G Service Providers
In the United States, all four major carriers (5G service providers) have rolled out 5G service in most major metropolitan areas. AT&T, Verizon, T-Mobile, and Sprint all launched their 5G wireless networks in late 2019. Some are relying on millimeter wave (mmWave) technology for higher speeds, while others favor the use of low and mid-band spectrums for wider coverage.
AT&T
AT&T is using the term 5G to describe its lower band 850Mhz network and the term 5G Plus (5G+) for its mmWave service. 5G is available in around 100 cities, while 5G Plus is live in parts of 35 cities.
AT&T's consumer network now covers 327 markets across the country, including smaller cities like Kalamazoo, Mich., Worth, Ga., and Erie, Pa.
In terms of hardware, AT&T currently sells all three of the Samsung Galaxy S20 phones, together with the Galaxy Note10+ 5G and LG V60 ThinQ 5G.
Verizon
Verizon's 5G network uses 28GHz (GigaHertz) and 39GHz bands, both of which are high-band millimeter wave (mmWave) frequencies. The carrier's Ultra-Wideband 5G service has officially started in parts of 35 markets across the country, including Chicago, Miami, Little Rock, Ark., and Sioux Falls, SD.
The Samsung Galaxy S20+, S20 Ultra, and Note10+ 5G, along with the LG V60, Motorola Edge+, Motorola Moto Z4, and OnePlus 8 are all offered by Verizon as compatible with its 5G network.
T-Mobile And Sprint
Since their merger, the mid-band spectrum 5G service that Sprint offers has been added to the existing millimeter-wave coverage of the "nationwide network," which T-Mobile launched in December 2019. The service currently has a foothold in all 50 states.
Sprint and T-Mobile currently carry the trio of Samsung Galaxy S20 phones, which work on both the low- and mid-band 5G spectrum. T-Mobile also sells the LG V60, OnePlus 7T Pro 5G McLaren, and OnePlus 8.
Challenges and Opportunities for 5G Service Providers
Although 5G network service and phones are developing rapidly, most experts predict that it will take until 2025 for 5G to become mainstream in the US. To assist the main carriers in expanding their reach, a number of infrastructure and technology providers are furnishing the equipment and techniques needed to move 5G to its next level.
Semiconductor makers such as Qualcomm, Qorvo, and Skyworks Solutions (SWKS), for example, make the chips that are built into smartphones. And many chipmakers such as Marvell Technology (MRVL), Broadcom (AVGO), Intel (INTC), Texas Instruments (TXN), and Analog Devices sell into the 5G network market.
As 5G network providers use mid-band as well as higher frequency airwaves, they require more equipment, more cell towers, and more fiber-optic wiring than previous mobile generations. So, makers of fiber-optic technologies like Corning (GLW), Ciena (CIEN), and Acacia Communications (ACIA) are also part of the 5G wireless network supply chain.
On the physical infrastructure side, organizations like Crown Castle (which makes "small-cell" radio antennas for 5G services in urban areas) and Keysight Technologies (a manufacturer of 5G network test gear) come into play.
5G Internet Providers
At the moment, 5G is mostly used for wireless phone networks. However, there are some providers who are proposing to offer fixed-wireless versions of 5G that you can use to provide internet connectivity in your home.
Starry Internet
Starry Internet is a service provider based in Boston, which uses 5G millimeter-wave bands on a fixed-wireless network to deliver internet to apartment complexes and some residential buildings in Los Angeles, Denver, New York City, Boston, and Washington DC. There's a set charge of $50 per month for a plan that delivers speeds of up to 200Mbps.
T-Mobile
T-Mobile has announced that it intends to launch a 5G-based home network by 2024. The scheme will extend internet coverage to rural areas across the United States that were previously off the grid.
US Cellular
US Cellular recently announced that it would begin testing a fixed wireless Internet service on its upcoming millimeter wave (mmWave) 5G network in 2021. The company already has commercial fixed wireless offerings on its 4G LTE network.
During three of the recent FCC spectrum auctions, US Cellular acquired roughly $402 million worth of mmWave spectrum licenses. The company currently provides 25GB of high-speed fixed wireless data for $50 per month via its LTE network. It has yet to provide details of the number of households it will cover under 5G and the speeds that it will provide.
Verizon
Verizon currently offers its 5G Home internet service in limited parts of Chicago, Sacramento, Los Angeles, Houston, and Indianapolis. Speeds range from an average of 300Mbps to a maximum speed of up to 940Mbps. Thus far, Verizon is the only US operator with significant plans to deploy fixed wireless services on the mmWave spectrum.
To encourage consumer adoption, Verizon is offering a number of perks, including no costs on installation or equipment, and the first three months of service for free.
Living the Internet
Utah–based service provider Vivint Internet offers a fixed-wireless home internet service that runs on a 5G network. It's available in selected parts of Salt Lake City. The network delivers download speeds of either 100Mbps or 1,000Mbps, depending on your plan and the spectrum frequency that it taps into.
CenturyLink, Shentel, Windstream, C Spire, Cable One, and Midco are among the other network operators who also have plans to offer fixed wireless across a variety of spectrum bands, potentially including the mmWave bands.
The problem that all of these providers will face in rolling out 5G internet is that the availability of fixed wireless is extremely limited for now – and it's currently difficult to say whether 5G home internet service will be better or faster than the long-established DSL, fiber, and cable internet networks for the home.