People leverage the internet for seeking important information, looking for the best place to eat, and for multiple reasons. Google displays millions of results against each search query.
Therefore, standing out from the crowd can be a hard nut to crack.
But that's not impossible.
In times like these, knowing how to craft user-friendly content for the website is a crucial skill. Writing SEO-optimized content can help you to reach the target audience.
Producing top-quality content is not only a stand-alone factor. If you want your content to perform better, you should focus on making your content concise and engaging.
In simple words, you need to write user-friendly content.
In this guide, you will learn about how to craft user-focused content. Here you go!
1. Research Relevant Keywords
First things first!
Find out all the relevant keywords related to your topic in order to identify your target audience. You can use reliable keyword research tools like SEMrush, Ahref, Keyword Planner, and many others.
Make a list of the primary and LSI keywords. 
2.  Identify Users' Search Intent 
The purpose with which a specific audience asks queries is called users' search intent. Following are the four major search intents:
· Navigational Intent
This intent copes with the searches made to visit a particular audience.
·  Informational Intent
It deals with the intent to gain information on a subject.
· Commercial Intent 
Using this intent, people make a purchase.
·  Transactional Intent 
The purpose with which people land on a website to buy something is called transactional intent.
Knowing these intents will help you write quality content tailored to your audience's needs.
3. Write an Optimized Meta Title and Description 
The Meta title and description are key components of HTML. Thus, you should create them carefully and include primary keywords in them.
If your titles and descriptions exceed the character limit of 60 and 160 characters respectively, Google will truncate all the exceeding characters. What is the best way to remain inside this character limit?
This is where an online word counter helps you keep track of the written content properly. With this word counter free online tool, keeping track of titles and descriptions length has become easier.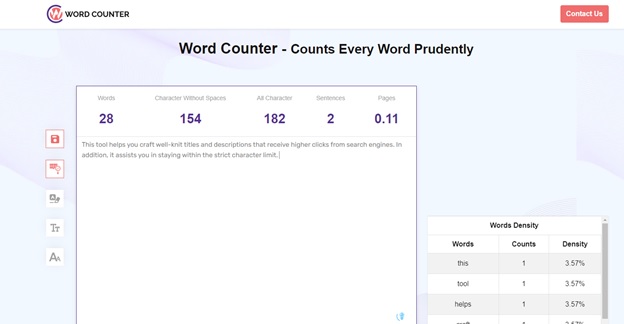 This tool helps you craft well-knit titles and descriptions that receive higher clicks from search engines. In addition, it assists you in staying within the strict character limit. 
In a nutshell, you can write highly relevant and appealing titles and descriptions with a word counter online tool. Writing unique titles and descriptions for your content impresses search engines. 
4. Craft a Powerful Hook Statement 
Drawing readers' attention from the very beginning is always wise. You should let your readers know how your content is worth reading. 
Accordingly, you should write the first sentence carefully. Here are a few steps to hook your readers:
·  Ask a question
Pose the best-fit question in your content.
·  Show some surprising statistics
Present an interesting fact with statistics to attract readers.
·  Begin With a Controversial Statement 
In order to get your readers invested instantly, you can start with a controversial statement.
5. Write Concisely 
To keep your readers engaged, you should write concise sentences and paragraphs. Your readers will get bored reading long and complex sentences. 
Short sentences encourage readers to go through your content thoroughly. Read your content carefully and eliminate all the redundancies from it. It will help you to trim the lengthy sentences.
Writing a brief article does not mean that you cannot give a deeper perspective of a topic. Instead, it means avoiding complicated language.
6. Include Headings in Your Content 
Articles with proper H2, H3, and even H4 can perform better in the SERPs. 
Hence, you should organize your content in the form of bullet points, headings, and subheadings. It will help readers to skim the text easily. Most importantly, it will increase your content's readability.
7. Add Images to Your Article
Research unveiled that blogs with visuals generate almost 300% more inbound links. How amazing it is!
Moreover, it will appeal to your readers to get the exact message. You can include images, videos, info graphics, screenshots, and charts in your content. 
Incorporating visuals in your content will serve as an ultimate guide for readers and keep them engaged.
8. Follow Keyword Strategy
Keywords play a significant role in SEO. So you should practice using proper keywords in your content. 
Avoid keyword stuffing because Google penalizes websites that stuff keywords. 
Thus, you should craft impeccable content that contains relevant keywords. 
9. Include Proven Tips and Tricks
Your main goal should be to provide your audience with valuable content that meets their needs. One of the best ways to deliver them informative content is to provide practical and actionable tips.
10. Incorporate a Strong Call to Action (CTA)
If you think you have finished your job after writing good content, you are incorrect.
Your goal should be to convert visitors and readers into your regular prospects. Accordingly, including a relevant CTA in your content is the best step. 
11. Use Storytelling Techniques
As a content writer, you should focus on practicing storytelling techniques in your writing. Weaving your brand image into your content can help you get more attention.
Avoid writing content about you alone. Instead, find the best way to make it trustworthy and compelling. 
12. Proofread and Edit Your Work 
We all continue making writing mistakes. With some effort, you can fix all the flaws. 
Always proofread and edit your content with fresh eyes. Once you finish the article, take some rest. Then come back to the draft for proofreading and editing.
You can catch all typos, grammar, punctuation, and spelling mistakes in this way. 
Reading your article aloud will help you instantly spot places for better word replacement. 
Remember, all renowned writers are regular readers. The more you read content, the better your writing style will be. 
Keep reading your favorite stuff!
Whenever a fancy sentence catches your attention, reread it and make notes. 
Bottom lines
These tips and tricks will assist you craft user-friendly content and drive more traffic to your site. 
Start writing content by keeping the audience in mind every single time. In this way, you will get excellent content.
What is your take on writing a readers-oriented article?