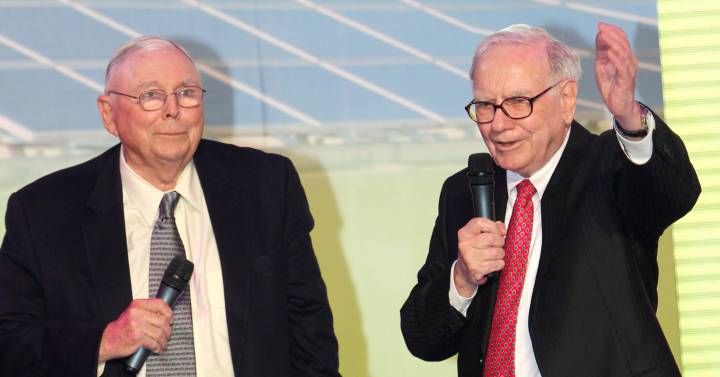 There are many investors who closely follow the steps taken by Warren Buffett and his holding company. Others, those who prefer to look at the preferences of other great American investors and managers, such as Bill Gates, Carl Icahn or Charlie Munger.
Berkshire Hathaway, Buffet's holding company, has assets under management of 331,000 million dollars, according to the Dataroma database. Buffett's investee holding company's largest position is in Apple, which has a 47.6% share of Berkshire Hathaway's portfolio. Following the company founded by Steve Jobs is Bank of America, with a weight of 13.58%, followed by American Express (7.49%) and Coca-Cola (7.16%), according to quarterly information.
Behind him is his vice president and right-hand man, Charlie Munger, who, through the Daily Journal Corp. vehicle, has assets under management amounting to 259,000 million dollars. Some investments that are spread over only five values: Bank of America, with a portfolio weight of 39.58%; Wells Fargo (29.53%); Alibaba (27.65%)
The Bill & Melinda Gates Foundation, which manages $23 billion in wealth, has its largest exposure to a security in Berkshire Hathaway, Warren Buffett's holding company. The investment vehicle known as the Oracle of Omaha has a weight of 43.85% in the portfolio of the Gates Foundation. They are followed by Waste Management, with 13.54%; Caterpillar (8.72%) and Canadian National Railway (6.99%).
Millionaire Bill Ackman, through the Pershing Square Capital Management fund, has his largest stock market exposures at Lowe's, with 25% of his portfolio, followed by Hilton Worldwide Holding (18.57%) and the Chipotle Mexican Grill chain (18 .42%). The investor, who has recently invested $1 billion in Netflix, placing him among its 20 largest shareholders, has made about $4 billion betting that the market was wrongly assessing the economic impact of the pandemic.
Carl Icahn, who manages his investments through Icahn Capital Management and has a fortune valued at around $16.8 billion according to Forbes, has his biggest exposure to his holding company Icahn Enterprises with 51.9% of the portfolio. Far behind is Cheniere Energy (7.36%) and Occidental Petroleum (5.85%).
Among those who have the most concentrated investment bets is the investor Eddie Lampert, who through RBS Partners, has assets of 155 million dollars in only two assets: Autonation and Lands End.