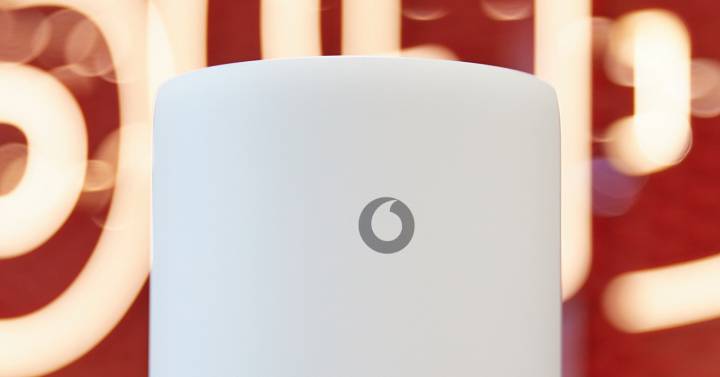 Vodafone boosts its presence in the 5G mobile phone business. The operator presented this Sunday, on the eve of the start of the Mobile World Congress (MWC) in Barcelona, ​​its new fixed-mobile 5G access service for homes and businesses, which complements the fiber connection, and with the that seeks to revolutionize these communications. In fact, with this technology, the telecom would be in a position to compete with other operators' fiber.
This Vodafone innovation is based on a device, under FWA 5G (Fixed Wireless Access) technology, which only requires connectivity to the Vodafone mobile network under 5G coverage. The operator explains that FWA 5G (Fixed Wireless Access) technology represents a disruptive milestone in the telecommunications sector, since it allows Vodafone to continue expanding its footprint nationwide as a complement to fiber, and also in areas where there is fiber deployment, it allows customers to choose the type of experience that best suits them, fiber or 5G.
In this way, customers will be able to access speeds of up to 1 Gbps, without losing speed inside the home, as well as being able to connect up to 35 devices to the same network.
According to Vodafone, some of the advantages of this solution are the speed and ease of self-installation, since practically all you have to do is plug the product in for it to start working. "This allows you to use the product as soon as you buy it, without having to wait for an installer to arrive and without having to modify the structure of the house," explains Julia Velasco, network director of Vodafone Spain, who adds that the product has already been tested in pilot mode with real customers who ensure that the user experience is similar to that with fiber.
The operator specifies that this technology will provide a quality connection solution for freelancers and professionals and will become an alternative to fiber that will allow connectivity to areas that are difficult to access, rural areas or second homes. This service will be available first in 63 cities with more than 100,000 inhabitants.
Deployment
In parallel, Vodafone Spain has announced that it will extend real 5G coverage to 46% of the population, reaching nearly 1,000 municipalities, by the end of this year. Of these almost 1,000 municipalities, 133 are towns with more than 50,000 inhabitants, 605 towns between 1,000 and 50,000 and 245 are municipalities with less than 1,000 inhabitants.
The company specifies that 46% of the population will be under real 5G coverage, with the frequency bands of 700 MHz, 3.5 GHz or both, by the end of this year. "In this way, the operator will provide connectivity to download content at 5 times the speed of 4G and customers will benefit from lower latency in accessing content with less delay in online gaming and will be able to connect more devices simultaneously. ", Says the teleco, adding that the 5G network in the 700 MHz frequency facilitates better coverage and service inside buildings.
In this sense, Vodafone points out that it is reinforcing mobile phone and data coverage with 700 MHz also in 25 large cities that already had 5G with the frequency of 3.5 GHz: Madrid, Barcelona, ​​Valencia, Seville, Malaga, Zaragoza, San Sebastián, Pamplona, ​​Logroño, Toledo, Santa Cruz de Tenerife, Palma de Mallorca, Valladolid, Murcia, Segovia, Castellón, Las Palmas de Gran Canaria, Coruña, Vigo, Gijón, Santander, Bilbao, Vitoria, Badajoz and Alicante.
"This deployment will also boost economic development in rural areas. According to a Deloitte report for Vodafone, for every 1,000 new broadband users in rural areas, 80 new jobs are created," explains Julia Velasco.