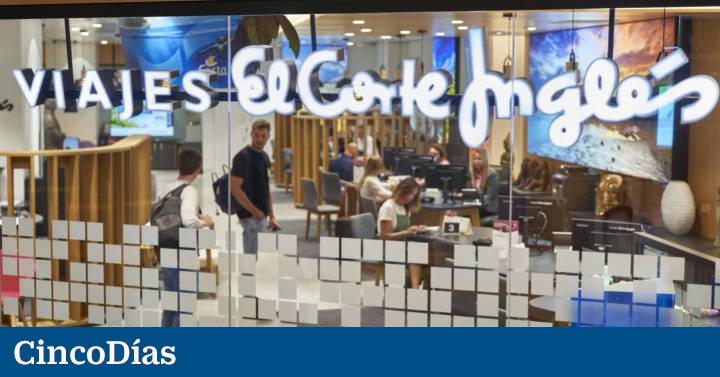 The third meeting of Viajes El Corte Inglés with the unions to agree on a collective dismissal and an ERTE for the rest of the workforce has yielded important news with respect to the previous appointments. In the case of the ERE, the travel subsidiary of the distribution giant has reduced the affected people by 71with which the initial proposal of 620 dismissals has been passed to another of 540.
Another relevant change was the introduction of voluntariness when adding the number of casualtiesin such a way that any worker who wants to adhere to the leave plan voluntarily may do so, without limits or vetoes due to the geographical location of their work center, with compensation of 25 days per year worked and a maximum of 15 monthly installments Viajes El Corte Inglés has promised not to make any forced redundancies if all exits are intentionally covered. In the event that you have to undertake the dismissals, the compensation will be 20 days per year worked with a maximum of 12 monthly payments. In this way, the firm seeks to encourage employees to sign up voluntarily. In any case, the collective dismissal must be finalized on June 30, 2022, as specified to the union organizations.
As for the ERTE, the maximum percentage of job suspension has been reduced from 60% to 50%, but lasts for one year, which from CC OO was considered "totally disproportionate". The company also proposed a temporary ERTE from March 1 to June 30 for the business area, the most affected by the fall in the tourism business, until the ERE is agreed.
From the Travel Professional Union (SPV) they were happy with the progress in the negotiation, although They demanded to raise compensation for voluntary departures up to 33 days per year worked and a maximum of 24 monthsas well as reducing the validity of the ERTE from 12 to 6 months, with which they would finally expire in September 2022. CCOO They urged that the ERE be totally voluntary, "well financially incentivized" and universal for the entire workforce.
Viajes El Corte Inglés is not the only large travel agency that is immersed in a temporary employment regulation file. Nautalia, travel subsidiary of the Wamos groupis also negotiating temporary job suspensions that would initially affect 331 employees, half of the workforce, and would last from March 1, 2022 to February 28, 2023. Yesterday it presented a second proposal to the unions, in which 200 people would enter an ERTE at 70% and another 131 at 100%.