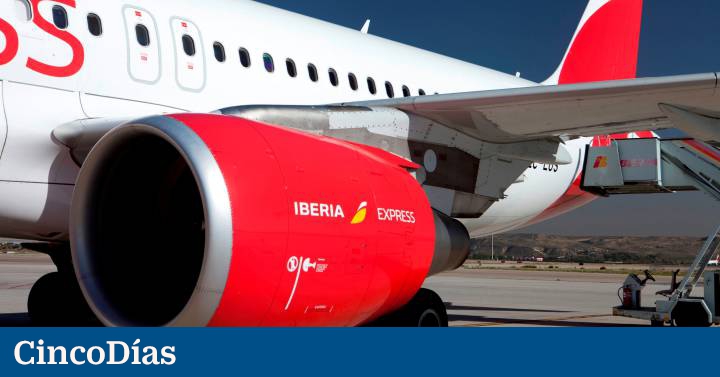 Strong clash at the negotiation table of the agreement of the cabin crew of passengers (TCP) of Iberia Express. The majority union USE has called the 517 workers of the group based in Madrid to ten days of strike which will begin on August 28 and last until September 6. The convening center says it is looking for the release of some conversations that began in December of last year.
The management of Iberia Express says they do not understand the causes of this extreme position, after "the intensification of the meetings and the search for an agreement despite the complexity of the business environment," it says in a statement. USO has already activated this summer protests between the TCP of Ryanair and easy jetcolliding head-on in the first one with CCOO, who signed a pre-agreement with the Irish despite not having representation.
That battle now extends to the low-cost subsidiary of Iberia, where CC OO has lamented through a note sent to the staff that other union sections, in clear reference to USO, "dynamit" the negotiation and "take hostages to the workers of Iberia Express of the conflicts that this union has in other companies and against the organization CC OO".
The union section of CC OO in Iberia Express accepts as good an agreement reached on Tuesday with improvements to deal with inflation and regardless of what the future agreement marks, but USO rejected it. Among the measures is a August payroll advance, on account of the agreement, of 1,350 euros for surcharges and 950 euros for TCP. If the new labor framework has not been signed by December 31, these payments on account will not be discounted in the future.
An additional day off per month was also set and it was determined that in the open agreement at least two new levels of TCP and surcharges will be created above the current ones. Salary increases for the latter will be at least 5% with respect to the immediately lower levels.
USO claims to have "serious suspicions about the vindictive spirit" of CC OO and calls the company's offer "precarious". This force demands a salary increase of approximately 16% between the annual revision of the CPI during the term of the agreement, after seven years of freezing; the consolidation of the salary increase of 6.5% corresponding to the 2021 CPI for all levels, or the creation of the two new levels. USO asks for an 11% and 4% salary increase, respectively, for those two steps.
From Iberia Express there is talk of "disproportionate" requests and USO is asked to reconsider and lift the stoppages. "We trust that the strike can be avoided, that we can continue the dialogue to guarantee stability and, above all, that we can offer a good service to our clients during their holidays."