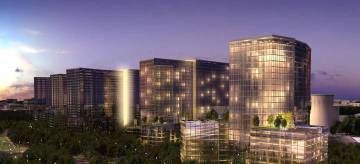 Urbas has strengthened its management team to accelerate the achievement of its strategic objectives and advance with the growth plans of all its lines of activity, as reported by the company on Monday.
In this sense, Urbas has appointed Rafael Valenzuela as the new General Director of 'Energy and Industry' to replace Enrique Barreiro, and Daniel Navalón as head of the General Directorate of 'Infrastructure and Building'. Both join the business team led by the president of the company, Juan Antonio Acedo, and which is completed by Javier M. Prieto in the general management of 'Real Estate Development'.
With the incorporation of Rafael Valenzuela and Daniel Navalón, Urbas is betting on profiles that are highly committed to its business plan and to the integration project of all the group's companies, "with prestige and recognition in the market, technical solvency, and with the determination necessary and the expert management to meet the forecasts of its growth strategy and even exceed them".
Thus, the objective of Valenzuela in Urbas will be to develop 530 MW by 2024, achieve revenues of more than 90 million euros, and develop adequate social and environmental integration around the company's projects.
Meanwhile, Navalón will bet on maintaining and increasing the competitiveness of Urbas on a national and international scale (Iberia, Latam, the Middle East and the Balkans) to reach revenues of 1,623 million by 2024, and Prieto will have the objective of delivering more than 3,000 homes delivered in the period 2121-2024.
With this organizational structure, Urbas consolidates its management model and reinforces the integration of all its lines of activity, "essential" variables in the new cycle of growth, expansion and internationalization in which the company is immersed.
Urbas thus strengthens the group's capacity to respond to the economic and social challenges of the global context in which its 2021-2024 business plan is framed, and to achieve by 2025 among all its lines of business ('Infrastructure and Building', 'Real Estate Development ' and 'Energy and Industry') capitalization of more than 2,000 million euros, turnover of more than 1,000 million and an Ebitda of almost 150 million