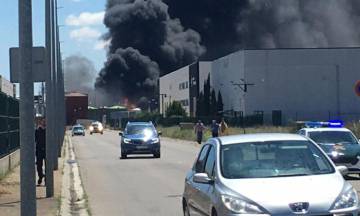 Two people have died this Thursday after an explosion at the Calahorra biodiesel plant, located in the El Recuenco industrial estate in this Riojan city.
The Government Delegation in La Rioja has detailed, in a note, that at 12:55 p.m. a notice was received from SOS Rioja 112 about explosions near the "Tierra Rapaz" leisure park.
The emergency services that have gone to the scene of the event have confirmed the death of two people and have evacuated the biodiesel plant.
In addition, all available patrols have been mobilized to the site, since there were 250 children on excursions in the vicinity, who are well and who have been evacuated with buses.
The Government of La Rioja has indicated that the causes of the explosion at this biodiesel production plant, located about 50 kilometers from Logroño, are not known.
Resources from the Rioja Health Service, Firefighters, Local Police and Civil Guard have been dispatched to the scene of the event.
The Calahorra City Council has asked the public "to vacate the industrial estates due to the existence of a risk of explosion". In fact, as Europa Press has been able to learn, the security perimeter has been extended to more than 1 kilometer due to the danger of the flames reaching a nearby warehouse.