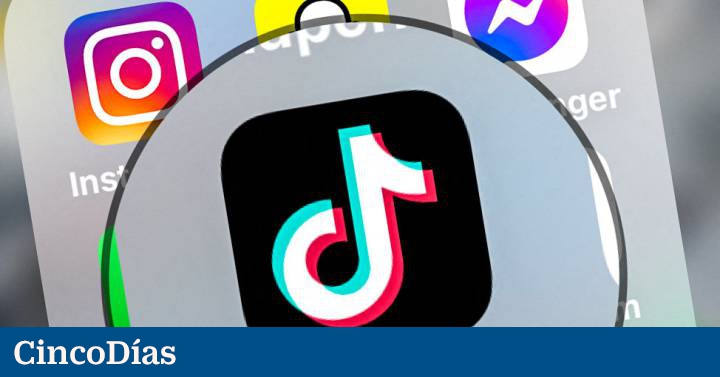 TikTok's global ad revenue is set to triple this year to more than $11 billion, outpacing rivals Twitter and Snap's combined ad sales of $5.58 billion and $4.86 billion, respectively. according to research firm Insider Intelligence. Half of TikTok's revenue will come from the US, where it will bill 5.96 billion dollars, 184.4% more than in 2021.
"TikTok's user base has exploded in the last two years, and the amount of time users spend on the app is extraordinary," says Debra Aho Williamson, an analyst at the analytics firm. TikTok, owned by China's ByteDance, already exceeds 1 billion active users worldwide. According to Insider Intelligence, in 2021 its ad business grew 175% to $3.88 billion and this year that growth will skyrocket by 200%.
The spectacular rise of TikTok in recent times was already warned by Facebook in its latest results presentation. Last February, its CEO, Mark Zuckerberg, acknowledged that they had suffered their first drop in daily active users in their history between October and December 2021 and had slowed their income growth due to pressure from TikTok.
The social network, which boosted its popularity with its short-form videos during the pandemic, is also hot on YouTube's heels. By 2024, TikTok's ad revenue will reach $23.58 billion, roughly the same as YouTube ($23.65 billion), Insider Intelligence highlights. By then, each company's share of the global digital advertising market will be 3.1%.
"It has gone far beyond its roots as a lip sync and dance app; It sets trends and fosters deep connections with creators that keep users engaged, video after video. Advertisers want to reach a passionate and engaged audience, and TikTok can deliver that," Aho Williamson continues.
It adds that another factor that will drive ad spend on TikTok is TikTok's "unique view" on social commerce. "It matches sellers with creators to help content go viral, and that can drive huge demand for products that advertisers want to promote."
Despite the explosive growth, TikTok, which has raised the time limit of its videos to 10 minutes, a strategy with which it tries to gain attention and publicity at the expense of YouTube, continues to maintain a small position in the global advertising market. digital. Its share will grow to 1.9% this year from 0.7% in 2021. A drop in water if you take into account that Google leads the market with 29%, followed by Meta with 21.4%.
The analysis company assures that TikTok will slow down its double-digit growth in the US from 2013, but its advertising revenue will exceed 11,000 million dollars in 2024, which will raise its share in that country to 3.5% compared to 2 .4% with which they foresee closing this year.
Business growth that is global
TikTok, owned by China's ByteDans, has become one of the most popular social media apps in the world. Its average user connected to the application 19.6 hours per month last year, almost five times more than the 4.2 recorded in 2018, according to data.ai data collected by Marketing Digital.
The popularity of the application is global. Insider Intelligence breaks down, for the first time, TikTok's advertising revenue in the United Kingdom (until now it only detailed those in the US, in addition to global ones), and ensures that this year the social network's billing will grow by 190.2% in this country, accounting for 8.9% of the total. TikTok advertising revenue in the UK will reach 735.3 million pounds (883.1 million euros)