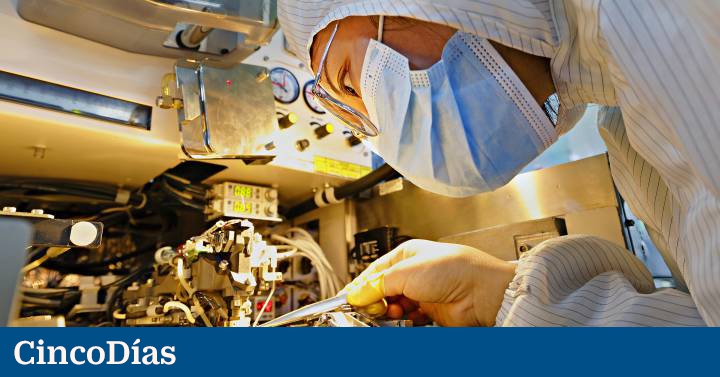 Semiconductors are the brains of electronic devices and the battlefield between the US and China in the fight for technological supremacy. A fight that promises to be tough and that has the largest Chinese manufacturer of memory chips as the last protagonist of the duel. Yangtze Memory Technologies Co (YMTC) announced on Wednesday a new memory chip technology that will help it catch up with US rivals Micron Technology and South Korea's SK Hynix. And red flags have been turned on in Washington, which is considering further restrictions on Chinese semiconductor companies.
According to a recent report, the Joe Biden Administration is intensifying its efforts to curb the advancement of the Chinese semiconductor industry and is considering limiting equipment exports to manufacturers of advanced NAND chips (chips with 128 layers or more), which would mean the first time it is targeting the memory chip industry, which would hit YMTC head on. Some US senators, including Chuck Schumer, have asked US Commerce Secretary Gina Raimondo to blacklist Chinese chipmakers, especially YMTC.
These restrictions would come after the Chinese company has presented its fourth generation 3D NAND chip, the X3-9070, the first of the company that has 232 layers of memory cells, according to Global Times. An advance that places it close to Micron Technology, which last month indicated that it intended to start volume production of its 232-layer chip by the end of the year, and South Korea's SK Hynix, which has created its first 238-layer memory chip. layers, which is a new benchmark in the sector, reports Reuters.
Industry insiders say that while YMTC is unlikely to launch mass production of its new chip in the near future, this is a big step forward for the company.
The report and petition from US senators come at a time when YMTC is expanding its production and R&D capabilities with the help of state grants. The company, founded in July 2016, has been accelerating the construction of a second manufacturing plant in Wujan (where it is based) to advance its production level. According to Nikkei Asia, it began installing equipment at the new factory in June and could produce 196-layer 3D NAND flash memory as early as 2023.
Bloomberg reported in March that Apple was studying the option of using YMTC as a supplier of memory chips, which would be a big boost for the Chinese firm, which in 2021 had a 5% global market share for NAND flash memory chips. and continues to rely heavily on imported chip manufacturing equipment, as despite China pushing for technological independence, only 18% of YMTC's manufacturing equipment came from domestic companies as of last July, according to data provided by Xu Tao, chief electronics analyst at Citic Securities, collected by Inside China Tech.
The restrictions, if they go ahead, could jeopardize YMTC's ambitions to grow its business, as happened to Huawei after the sanctions imposed in 2020 by the Government of Donald Trump. Analyst firm Yole Development anticipated that YMTC could exceed 10% market share in NAND flash memory chips by 2027.
YMTC, in any case, is not the only Chinese company affected by pressure from Washington in the chip industry. So is China's leading chipmaker, Semiconductor Manufacturing International Corporation (SMIC), which was already included in a commercial blacklist in the US in 2020. By contrast, YMTC, which according to Inside China tech has had relatively good relations with the US, is not.