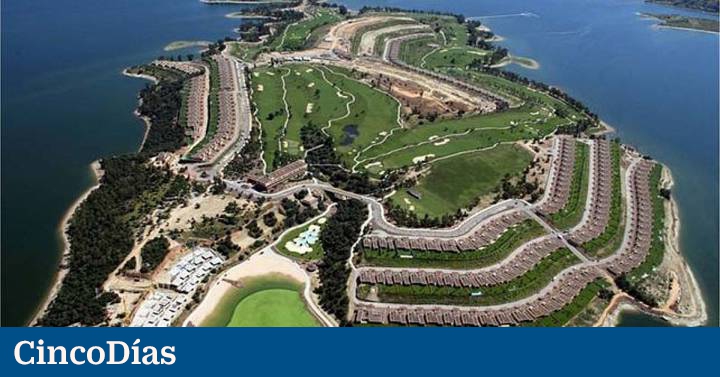 The Supreme Court amends the judgment of the Superior Court of Justice of Extremadura and rules that there are no reasons that prevent executing the sentence of demolition of the Marina Isla de Valdecañas urbanization, in the Valdecañas reservoir of Cáceres. This is reflected in the sentence released yesterday, detailing the reasons for a decision of the high court that was known last week.
"The concurrence of causes that justify the material impossibility of executing the sentences in their own terms in terms of the demolition of what was built and in operation is not appreciated," states the ruling. The Supreme thus takes sides with the appeal of Ecologists in Action, after the TSJ of Extremadura ruled on the impossibility of throwing away 185 villas (32% of those projected), a hotel, golf course and other facilities such as a marina, reasoned in the social and economic damages. That 2020 car only forced the removal of works in progress and prohibited any new construction.
The judgment of the Extremadura court estimated the cost of the demolition at 145 million euros, of which 34 million correspond to the demolition and 111 million for possible compensation to the owners of the houses. To this amount must be added the cost of compensation to the hotel company.
In any case, the Supreme Court now rules that any responsibility of the Administration in this case, "far from being disproportionate", corresponds to the scope of its responsibility. And there is no reason for the serious damage that it could suppose for the public coffers.
The Supreme Court now recalls that the approval of the Junta de Extremadura of the project of regional interest of Marina Isla de Valdecañas "was contrary to law" for environmental reasons since it was located on the Natura 2000 Network and on a protected area for birds.
"There is no material impossibility of execution" of the previous demolition sentences, adds the Supreme Court, "with respect to everything that has already been built, due to the affectation of interests of a socioeconomic or other nature."
To the extent that the Supreme Court now points out that the urbanization should be demolished, it announces that "the damages are notably altered" from the non-execution decided by the TSJ of Extremadura, for which it believes that compensation to associations should be reassessed Ecologists in action and Adanex, promoters of the resource.
The Junta de Extremadura announced last week that when it knew the sentence it would appeal to the Constitutional Court and without ruling out going to the EU.
Board compensation
The company Marina Isla de Valdecañas SA can carry out the project with the permits of the Junta de Extremadura. This company pocketed almost 96 million euros in real estate sales –focused on luxury– between 2009 and 2013, mainly in 2011, when it entered more than 90 million. Therefore, it is now expected that the injured owners sue the Board.