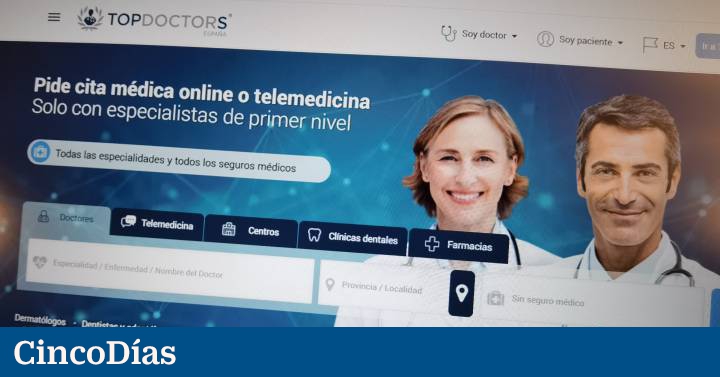 Top Doctors, the Spanish platform to find and contact medical specialists in private health, has closed a financing round of 13 million dollars (more than 11 million euros). The operation brings in Impact Partners and ICF Venture Tech II as new shareholders of the company, and also allows minority partners such as Inveready to divest "successfully". In the transaction, Drake Star Partners acted as financial advisor to the startup.
The company explains that the money will be used to reinforce "its leadership" in its main geographical areas of operation and in those with the greatest difficulty of access to medical professionals. Likewise, they will use capital to continue supporting doctors in their digitization process.
Top Doctors was founded in 2013 and already has a presence in Spain, Italy, the United Kingdom, Mexico, Colombia, Argentina, Chile and Saudi Arabia. Its team has 250 people, although it plans to expand its workforce by 100 more people in 12 months.
The telemedicine platform allows patients to access more than 90,000 doctors from more than 50 specialties from different medical centers. And it provides doctors with digitization tools, from online reputation management services to assistance with medical appointment reservations, and teleconsultation services and payment solutions, among others.
The company, which ensures that all Top Doctors specialists have passed "an exhaustive audit", closed 2020 with a turnover of 12 million dollars (about 10.4 million euros), and plans to exceed 16 million dollars this year (almost 14 million euros). In 2021, it hopes to reach 200 million visits to its platform.
Alberto Porciani, CEO of the company, points out that, according to the internal data they handle, 46% of patients are scheduled in locations other than their own, which means that they are traveling for a medical consultation. "Our service is helping the most depopulated populations to identify first-rate doctors and benefit from quality information "from good professionals, underlines the manager, who also ensures that they have proven to be" an efficient tool when it comes to promoting the use of telemedicine, which has increased significantly in the last year during the pandemic. "
According to Top Doctors, the investment in its platform is the third in Spain and the fourth in the health sector by Impact Partners, "a benchmark in investment with social impact in Europe". The firm has its headquarters in Paris and advisory offices in Barcelona, ​​Frankfurt and Copenhagen. Likewise, it is the ninth investment by ICF Capital, the venture capital firm of the Institut Català de Finances.
For Nicolás Touboulic, from Impact Partners, "inequality in access to the health system is a major social problem and one of the main challenges is to facilitate access to specialists for anyone, regardless of their income and place of residence" . In his opinion, Top Doctors helps "reduce inequality in access to specialists."