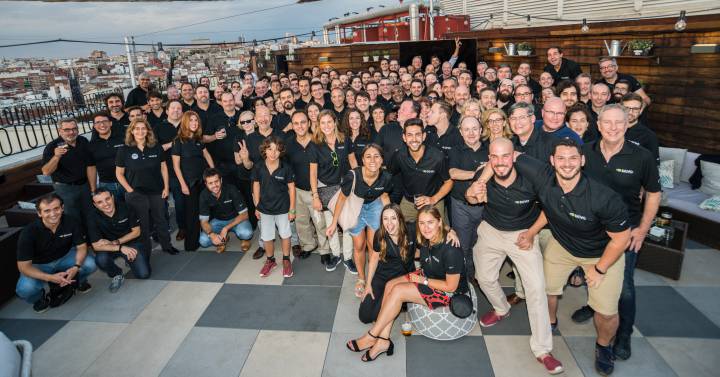 New million-dollar operation in the Spanish entrepreneurial ecosystem. Devo, the cloud-native security and data analytics company, has closed a round of financing of 250 million dollars (about 215.5 million euros). The operation has raised its valuation to 1,500 million dollars (almost 1,300 million euros), making it the first cybersecurity company in Spain to achieve unicorn status.
The transaction has been led by TCV, which since 1995 has invested more than 16,000 million dollars in technology companies (including Airbnb, Facebook, Spotify and Netflix) together with General Atlantic funds (investor in companies such as Snap, Delivery Hero, Uber, Slack or Klarna) and Eurazeo, specialized in investing in European technology companies. The existing funds Bessemer Venture Partners (LinkedIn, Pinterest or Twilio partners), Insight Partners (shareholders of Delivery Hero, Shopify or Twitter), Georgian (specialized in software companies) and the Spanish Kibo Ventures have also participated.
Devo, formerly known as LogTrust, has received funding of more than $ 400 million since it began operations in 2011. His previous round of funding took place in September 2020, when he received a $ 60 million injection. "The money now raised will allow us to continue growing at the rate we are doing, which is doubling business year after year; attract more talent to help us grow; strengthen ourselves in geographies where we are now in an incipient manner, and continue to innovate in technology ", Pedro Castillo, founder and CTO of the company, explains to Cincodías.
Castillo, former Head of New Technologies at Bankinter, assures that this new round of financing "is a milestone that exceeds all the company's expectations (…) All of this is the result of hard work and innovation driven by each of the employees, which which has led us to lead the security market ".
Devo, which moved its headquarters to the US in 2017, currently has a workforce of about 400 people, of which 280 are in Spain. In Madrid, the company maintains one of its main work centers. "Here we have mainly engineering. All product development, operations and the largest part of professional services, but we also have marketing, sales and pre-sales staff, human resources and part of the management", Says the manager.
The Spanish company offers a data analytics platform that aims to reinvent the way companies use their data, especially security data, to generate value with them. "Customers send us their data and we help them detect cyberattacks, find out what impact this could have on the company, how malware could enter their network… and all in real time to take faster and safer actions. There are companies that send us 70 terabytes of data a day and have that data for 400 days to analyze, computing 1.2 petabytes of data every day, "says Castillo.
According to Marc van Zadelhoff, former director of IBM Security and CEO of Devo since 2020, the digital transformation and the myriad of threats associated with it are introducing significant problems in the complexity and proliferation of security data, which has placed technology from security analytics as the central axis of the main cyber defenses in the world. "The largest companies on the planet choose Devo because it combines unmatched scale, powerful analytics and the ability to get answers in real time, changing the way security teams interact with their data. And this round of financing validates the disruptive force that we have become and sends an unequivocal signal to the sector that we will continue to set the pace in terms of innovation and customer value ", says the executive.
Devo executives do not reveal the company's turnover, but they do point out that its most important market is the United States, followed by Spain. Last year they opened a commercial office in several European countries, such as the United Kingdom, Germany and France, and in Australia. "They are already bearing fruit, but we really want to grow in these geographies and continue to attract business there," continues Castillo, who points out that the Asia-Pacific region is very important to them, as well as continuing to expand in EMEA (Europe, Middle East and Africa), "which is a natural market for us".
Devo will also seek to have a greater presence in the public sector, significantly increase its investment in the expansion of the channel and promote new verticals. "Right now we have three use cases on our platform. The strongest is security, but there is also Service Operations (everything that has to do with the metrics of IT management: response time, quality of service, etc.), where Forrester declares us leaders in that market, and machine learning. "We want to continue promoting the cybersecurity use case, without neglecting the other two," adds Castillo.
The new round of financing shows the momentum that the Spanish technology company has taken since Zadelhogg was appointed CEO of the company. Over the past year, the company has hired proven industry leaders such as Chief Security Officer (CSO) Gunter Ollman, Senior Vice President of Product Ted Julian, and Chief Financial Officer Jennifer Grunebaum; has increased its customers by more than 100%, according to its data, and has launched Devo Content Stream, a "high-value" content delivery service for its customers.
Following this latest transaction, Devo Gopi Vaddi, General Partner of TCV, and Gary Reiner, Operating Partner of General Atlantic join the board of directors.
The company, which has among its clients Telefónica, CaixaBank and the US Air Force, among others, is now aiming for an IPO. "We have not set a specific date, but we aspire to do it on the Nasdaq in a period of two to three years," says Castillo, adding that they will do so "slowly, but without pause. Going out one year or another will be more a matter of finding the right time. But if we continue to grow as up to now we will have all the willows to do so within that period ".
Castillo remarks that this will be the next big step for the company. "Having reached the current position in 10 years is something incredible," says the executive, who recalls how the project started with five people and how in the worst of the 2011 crisis they were "one week away" from running out "without gasoline." in order to continue with the project. "Now we are in a new chapter, we are a relevant player in the sector and we have possibly become the largest software company in Spain in all its history."
Along the same lines, the founder of Devo also highlights how Spain has had great success with cybersecurity companies, such as AlienVault, which was sold to AT&T in July 2018 for about € 500 million. "We are already very far from that figure, and ours is not an exit. We continue in the fight to continue growing ".
Despite this, Castillo acknowledges that they still have important challenges ahead if they want to continue growing: "We must be able to retain and attract talent, get our bets right (of geographic and technological expansion) and know how to manage growth itself." But they trust that the CEO and the new signings will help them manage all those challenges, in addition to the competition. Its main rivals are Spluk, which is listed on the stock market with a capitalization of 27.2 billion dollars and invoices 2.300 million dollars, and Sumo Logic, which began trading in 2020 with a capitalization of 1.900 million and a turnover of about 210 million dollars. .
.