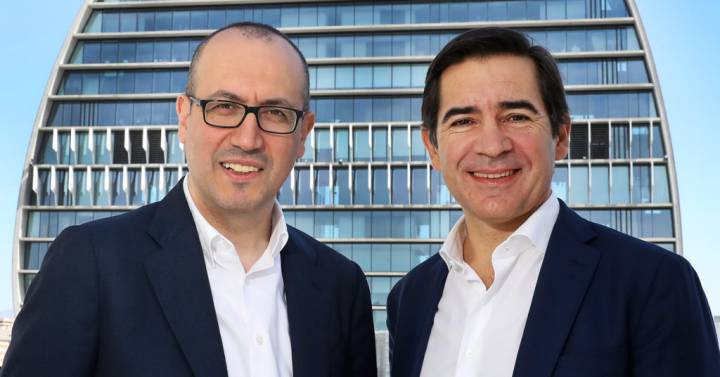 The Chairman of BBVA, Carlos Torres received a remuneration of 7.8 million euros in 2021, 5% more than in 2019. Of this amount, the fixed remuneration was 2.9 million euros in 2021, while the variable is 4.2 million euros, according to the annual report on directors' remuneration for the year 2021.
According to the remuneration policy, 40% of this amount will be received in 2022 (half in cash and the other half in BBVA shares). The remaining 60% (of which 40% is in cash and the rest in shares) will be delivered over the next five years, in equal parts and subject to compliance with pre-established multi-year evaluation indicators. The contribution in 2021 to the retirement provision system was 0.3 million euros, the same as the contribution in kind.
The group recalls that the remuneration policy approved at the 2021 shareholders' meeting involved a redistribution of the different components of the chairman's remuneration. Thus, the amount of the annual contribution agreed for his retirement was reduced from 1.6 million euros (67% of the annual fixed remuneration) to 0.4 million euros (15% of the annual fixed remuneration, in line with the best market practices). The difference between the two figures (1.2 million euros) is redistributed between fixed and variable remuneration, respecting the existing balance between both components (45%-55%, respectively), except for 157,000 euros per year, which the chairman renounced.
The remuneration of the CEO, Onur Genç, amounts to 6.8 million, 8% more than in 2019. Of this figure, the fixed part is 2.2 million euros and the variable part is 3.2 million, the latter being subject to the same conditions of deferral and payment in cash and in shares as in the case of the chairman.
The CEO has a supplement to his fixed remuneration, instead of the retirement pension ('cash in lieu of pension'), and a mobility supplement, in his capacity as senior international executive, two concepts for which he has received €1.3 million. Additionally, the bank has paid 0.2 million euros in remuneration in kind.
The bank justifies the salary increase of the two executives as a result of the good recurring results of the group obtained in 2021, the highest in the last decade -the group had a recurring profit of 5,069 million euros, while the attributed result was 4,653 million-, and the achievement of objectives. In this way, the achievement of Torres' objectives was 119% better in his case, and 121% in that of the CEO, while in 2019 said achievement of objectives was 106% in the case of the Chairman, and of the 107%, in Genç.
BBVA clarifies that the 2020 remuneration is not comparable, "given that both (chairman and CEO) renounced the entire variable remuneration as an act of responsibility in a period very marked by the pandemic." In addition, he underlines that for the first time, the bank applies the remuneration policy approved at the last shareholders' meeting, which "incorporates the best market practices in remuneration matters."