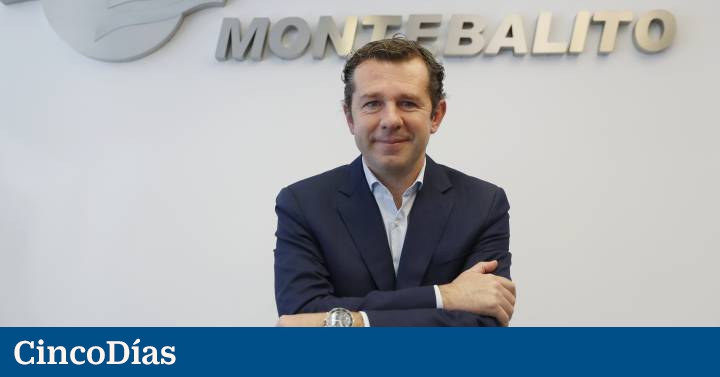 The small listed real estate Montebalito, one of the survivors of the brick crisis, wants to enter a new stage. Its new non-executive chairman, John Velayos, who joined the company at the end of last year, explains that the company is opening up to new shareholders and co-investment in projects to grow the company and its share price. "We must be open. I don't want to call it corporate operations, but I do want to be open to any non-organic operation profile that could make sense to create value in the group", he points out.
Montebalito, created in 1972, is a veteran of the Spanish stock market but with little trading volume of its shares, since it is controlled in more than 80% by the veteran Galician businessman Joseph Barreras, as recorded in the records of the CNMV. Her daughter, Ana Belén Barreras, is the CEO. Last year she billed 10.4 million euros and lost 6.1 million. In its strategic plan from 2021 to 2023, the delivery of promotions worth 200 million is contemplated.
"It is a company that wants to take a leap forward in terms of recognition, visibility and more transformative approaches than it has had to date," Velayos details in an interview. "My arrival at the group can shake up the transformation," says the former CEO of Neinor and Renta Corporación. He also indicates that his arrival at the company is understood in a role of giving visibility to the group and transmitting messages so that it is better understood in the markets.
Velayos indicates that in Motebalito there must be a dialogue with institutional investors to study formats of joint venture in which the company is the managing partner and the investor contributes capital. "We could consider capital inflows that could boost Montebalito, although it is complicated due to the current value reference." It refers to the market capitalization, which stands at 44 million, which means trading at a very significant discount to the net asset value (NAV), of 85.4 million.
Asked whether Montebalito could be the subject of a takeover bid by some unlisted developer wanting to go public – such as Vía Célere, Habitat or Culmia – Velayos does not rule it out. "Clearly the ticker of listed is here. If it generates value for Montebalito shareholders, why not, it could be an option".
The president of the promoter also values ​​the cash flow that will reach Montebalito in the coming years, of 200 million, both as an interesting dividend and as it will allow it to have more investment capacity. This translates into more interest in land purchase operations. "It can have a proactive role, but I see it more to add value with the entry of investors or partners in the ideal format rather than in a purchasing role", he clarifies.
Regarding the majority shareholder of the company, he indicates that he has an open mind. "What he wants is the best for Montebalito, he has no financial or short-term need. He perceives that it is a company that needs to be given a boost and he is willing to give that boost. What he's not going to do is let go of Montebalito and lose control. It is a very relevant aspect and it has to be worth the operation. Nor is he going to be in operations that catch him without liquidity, "he asserts.
A more understandable model for the market
Juan Velayos recalls that Montebalito has geographic diversification, with 50% of its project portfolio in Spain and the rest in the Dominican Republic and Brazil. Also a mix of property business, with 25 million euros in rental assets, and also in a variety of assets, such as residential, hotel and residences. Therefore, he points out that the company must prioritize a business core in housing development in Spain, although without ruling out other opportunities, which he calls "a more predictable model" and understandable for international funds. He also reflects that the company should bet on developments with a greater number of homes and consider entering the build to rent (build to rent) hand in hand with investors.