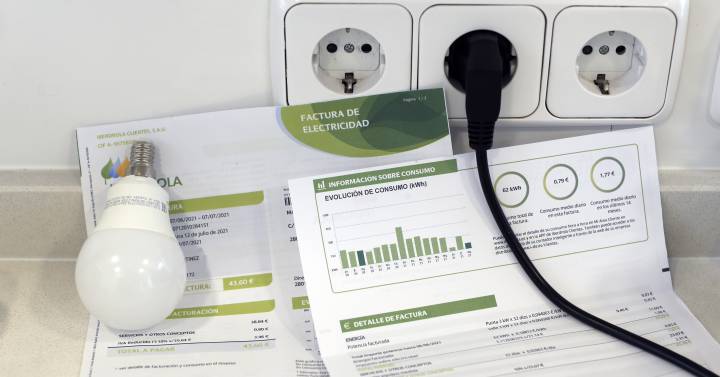 The average price of electricity in the wholesale market (pool) will rise by 7.5% tomorrow, to 231.82 euros / megawatt hour (MWh), its second highest level in history, after the one reached last week.
According to data from the electricity market operator (OMI) after the auction held this Thursday to set prices on Friday, the wholesale price of electricity tomorrow will in any case be 20% lower than the record reached on October 7 (288 , 53).
So far in October, electricity has been above 200 euros / Mwbh eight times, including tomorrow, and is almost six times more expensive than a year ago (39.33).
The time slot in which electricity will be most expensive will be 9:00 a.m. and 10:00 a.m., when it will cost 265 euros / MWh, and the cheapest between 4:00 p.m. and 5:00 p.m., when it will be at 201.06 euros / MWh .
The prices registered in the wholesale market have a direct impact on the regulated tariff or PVPC, to which almost 11 million consumers in Spain are welcomed, and serves as a reference for the other 17 million who contract their supply in the free market.
For this reason, the Government has opened a public consultation to review the regulated tariff and that it is not directly indexed to the changes that occur daily in the wholesale market, where the volatility of the price of gas and CO2 rights is leading to record all-time highs, both in Spain and in other European countries.
In any case, the regulated tariff has historically been cheaper than the free market in which the rest of Spanish consumers pay their bills, according to data from the National Markets and Competition Commission (CNMC).
According to the CNMC household panel for the second half of 2020, the latest available, the monthly expense billed to a typical household covered by the regulated rate was more than 20 euros cheaper than one in the free market (28.2% more cheap). Since 2019, that saving has always been greater than 15%.
The Congress of Deputies debates the validation of a royal decree-law that includes measures to try to contain the contagion of the rise in gas in the electricity tariff, including cutting electricity companies for six months the benefits they obtain in the wholesale market because of the high gas prices.