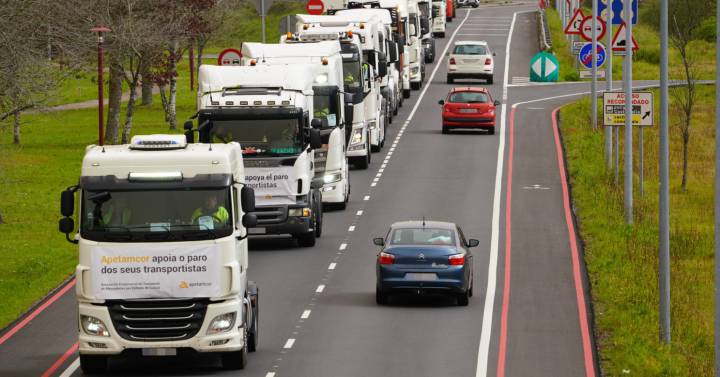 The business associations that represent the value chain of mass consumption -industry and distribution- have formally requested the Government's urgent collaboration to ensure the proper functioning of the chain and the guarantee of the free movement of goods.
In a joint statement, the representative organizations of the supermarket chains and large distribution, Asedas, ACES and Anged, and the representatives of the industry and manufacturers, Aecoc and FIAB, have demanded the action of the Government, before "the resurgence of the actions aimed at preventing road freight transport from offering its services".
These organizations have appealed to the responsibility of the organizers of the strike not to encourage acts of vandalism that are taking place and to avoid making citizens pay for "the problems that society as a whole is already suffering and that are a consequence of the current inflationary context and the complex international scenario".
After recalling that this transport strike has been called by a very minority organization and that it does not have the support of the National Committee for Road Transport or the majority unions, they have highlighted the increasingly belligerent actions of the organizers.
In this sense, they have mentioned blockades in ports, fish markets, wholesale markets and logistics centers that "are beginning to cause important problems for companies in the sector", such as the lack of supply in factories or difficulty in supplying points of sale.
The value chain of the sector has assured that "it tries by all means" to mitigate this reality which, in its opinion, is being produced by the resurgence of the actions of "a minority of carriers that prevents the majority of professionals and companies from of transport can freely carry out their work".
Given this situation, they have conveyed their firm commitment to the supply of essential products, for which they have asked the Government to "urgently adopt the necessary measures to guarantee the free movement of goods." They have demanded from the Ministry of the Interior the action of the State security forces and bodies to stop the acts of vandalism and the coercion that companies and professionals are suffering in order to exercise their right to work.
"This is not the time to paralyze the country but to work together, through dialogue and collaboration, in the search for solutions," they warned. Finally, these companies have recognized that they share the consequences of the current inflationary scenario and, therefore, they had already asked the Government for a special aid plan to mitigate the effects of cost escalation on road freight transport. They have advocated for measures such as those adopted in France, Italy and Portugal, which include the reduction of fuel taxes and other tax exemptions.