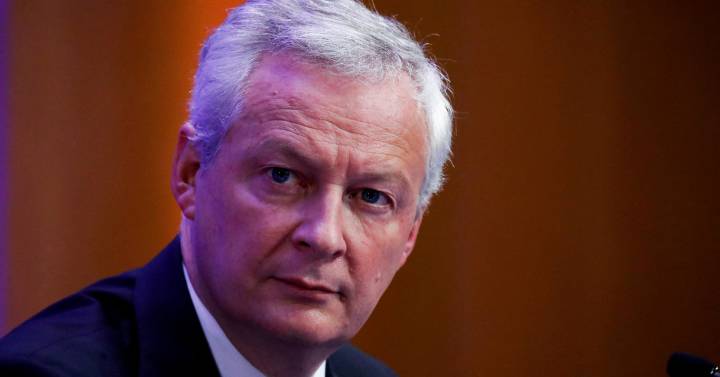 The future of Électricité de France (EDF) is clear thanks to public aid. The French State, which controls the electricity generation and distribution multinational with almost 84% of its capital, will inject 2,100 million euros in the company's 2,500 million euro capital increase, after having commissioned the construction of six new nuclear reactors for the energy transition.
The Finance Minister, Bruno Le Maire, explained this Friday in an interview with the RTL radio station that there will be no nationalization of the company. "It needs the financial help of the State", stressed Le Maire, who recalled the bad times the company is going through due to the unavailability of several of its atomic reactors, which will mean a reduction in electricity production this year.
He also recalled that last week French President Emmanuel Macron announced his intention to build half a dozen new EPR-type nuclear reactors to renovate the current park, which generates around 70% of the country's electricity. The first should enter service on the horizon of 2035-2037. In addition to participating in the capital increase, the State will continue to receive EDF's dividends in its own shares.
Asset Sales
Likewise, as part of the efforts to strengthen its balance sheet, EDF announced its intention to carry out between 2022 and 2024 asset sales for an estimated value of 3,000 million euros, while it will propose to the company's shareholders the possibility of opting for for the payment of the dividend in shares ('scrip dividend') for fiscal years 2022 and 2023.
In response to the crisis caused by the pandemic, in mid-2020 the company already launched savings and asset disposal plans with the aim of reducing its operating expenses by 500 million euros between 2019 and 2022 and generating approximately 3,000 million euros. euros in sales between 2020 and 2022. By the end of 2021, the company had achieved cost savings of €545 million, while the favorable impact of asset dispositions signed or completed as of December 31, 2021 was around €3,000 million euros on net debt.
Debt of 43,000 million
The company, which presented its 2021 results this Friday, had a large debt at the end of last year (it increased to 43,000 million euros, 700 million more than a year earlier) that weighs down its investment projects. The French company multiplied its profit by almost 7.9 last year to 5,113 million euros. Likewise, during the past year the company reached a turnover of 84,461 million euros, 22.3% above the revenue recorded in 2020. Despite everything, the share fell 2.35% this Friday, after the results presentation.
In January, the French government announced that it would force EDF to reduce its prices to protect consumers from rising electricity bills. The move could cost the company 7.7 billion euros. The move was pushed by Macron, who faces presidential elections in April.