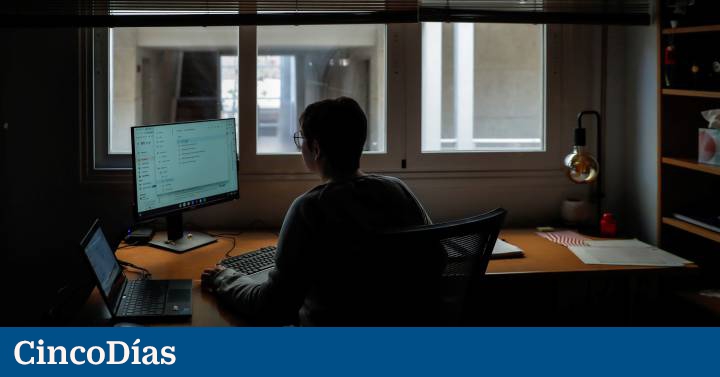 The right to digital disconnection continues to be a pending issue in the vast majority of Spanish companies with a work culture that continues to be marked by presenteeism in an increasingly hyperconnected environment from which workers do not end up escaping in summer either.
According to the experts consulted, although this right is included in several regulations, the growing digitalization and the extension of teleworking after the pandemic make it more difficult for this protection to be complied with, in the face of what action plans are demanding with concrete measures that make this right effective and toughen the sanctions.
A recent study by Adecco shows that 37% of Spaniards continue to work after working hours three days a week and 59% of workers check email outside working hours an average of four days a week.
"In a hyperconnected digital environment, disconnecting from our work is more difficult than it was for previous generations," says Adecco.
"There is a systematic breach of the right to disconnection, possibly an inheritance of our presentist culture and unproductive extension of working hours," denounces the person in charge of digitization of UGT, José Varela.
"I think we should think about how to promote measures that make the right to digital disconnection effective," says the secretary of studies and trade union training of the CCOO, Carlos Gutiérrez, who insists that "it is not a good question in the sense of a declaration of intentions that they are not going to call you at midnight".
As an example, they point out that of the total number of agreements signed so far this year, "only 12% mention this aspect and only three really develop this right."
overtime pick up
And all this in the context of the consolidation of teleworking after the pandemic and a rebound in overtime.
Thus, according to data from the Active Population Survey (EPA), in the second quarter of 2022, 13.2% of employed Spaniards worked from home, a point and a half below the data for the period of the previous year and almost six less than 2020 highs.
However, the figure is still above pre-pandemic levels when this percentage was 8.3%.
On the other hand, the EPA recorded 6.64 million overtime hours in the second quarter, more than half a million more than the same period in 2021, of which only 50.7% were paid.
"The working week of remote workers increases by around three and a half hours (…) because having the work computer at home makes it take them longer to disconnect," explains EAE Business School professor Maite Moreno.
Although digital disconnection is a right included both in the Workers' Statute and in the Data Protection and Guarantee of Digital Rights Law, of 2018, and in the Teleworking Law, of 2021, the experts consulted agree that this right it is not always fulfilled.
No concrete measures
"Teleworking delves deeper into hyperconnectivity and the extension of working hours," explains the head of UGT, who points out, however, that non-compliance with digital disconnection also affects those employees who do not work remotely.
"The regulations were pioneering," says the professor of Labor and Social Security Law at the University of Valencia Adrián Todoli about the 2018 Digital Rights Guarantee Law, although he admits that it did not provide "a mechanism for that right was effective".
The right, adds Todoli, is not even clearly established, and he wonders if "digital disconnection means that you as a worker have the right not to answer emails or that they cannot send you emails."
The president of the Union of Labor and Social Security Inspectors, Ana Ercoreca, points out that, in Portugal, the legislation prohibits the employer from sending emails to their employees outside of working hours, while in Spain what is prohibited is only the requirement of reply to emails.
"Although the law leaves a wide margin for collective bargaining to complete this regulation, at the moment there are few agreements that mention it," explains the also full professor of Labor and Social Security Law at the University of Valencia and Of Counsel of Alenta Abogados, Daniel Toscani.
"Companies do not have action plans in the face of a real digital disconnection of their workers," says Toscani, adding that "it is necessary to develop the legal obligation for each company to prepare and approve an internal policy that defines the modalities of exercise of the right to disconnect".