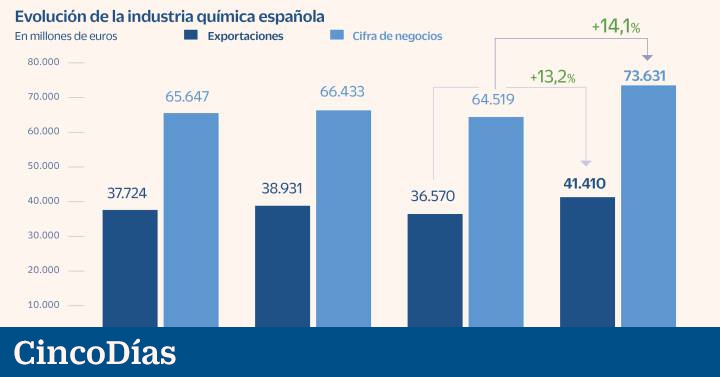 The chemical sector lives a mirage. The turnover record in the history of the rector in Spain seems like good news, but it covers serious problems facing this industry, specifically, the high price increase that affects margins and the exponential rise in the prices of the Energy.
Chemical activity will reach a turnover this year of 73,631 million euros, 14.1% more than last year, according to the forecasts published this Wednesday by the Feique employer's association, which held its annual meeting in Madrid. This joint turnover improves the sector's forecast for this year, which it had previously calculated at 69.1 billion in 2021.
"It is going to be a year as regards the figures as excellent, although there are many buts to put in," said Carlos Navarro, president of the Business Federation of the Spanish Chemical Industry (Feique). According to this manager, the historical turnover is due to "a rapid recovery" in demand after the pandemic, but "it can be misleading" because the rise in prices in the sector, which has triggered revenues, have also strongly affected the company margins. "They do not reflect the level of stress and uncertainty of companies", he asserted.
Among the problems the sector has encountered is the high price of raw materials, the increased cost of freight and transport and the blockage of the automotive value chain.
The activity of chemical companies has also been export driven, which grew 13.2%, to 41,410 million. Shipments to the Netherlands, Italy, France, Germany and the United States grew above all, while they fell to the United Kingdom as a result of Brexit.
Elimination of the hydrocarbon tax
The president of the employer's association focused his presentation at the assembly on the serious problems that the sector is facing due to the increase in the price of electricity in the wholesale market, since this industry is highly dependent on the use of energy and also on raw materials like gas.
Feique proposes that the Government act to improve the European pricing model in the wholesale market and act on the markets for CO emission rights.2.
Likewise, it requests short-term measures in what it calls gas-intensive consumers. Among the measures, Navarro demands the reduction of tolls and charges, temporary suspension of the hydrocarbon tax and the compensation of indirect costs of CO2 to gas intensive sectors.