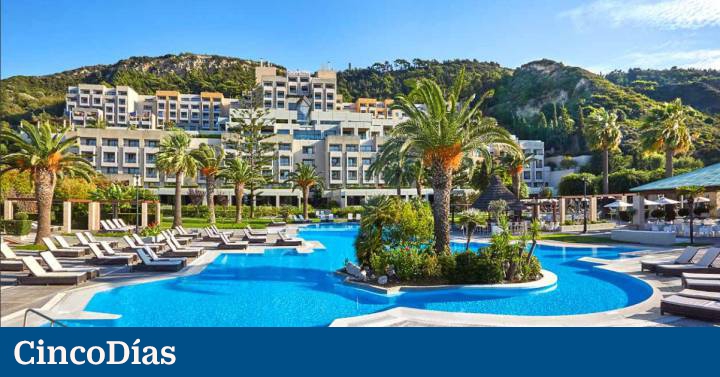 Azora continues to extend the tentacles of its hotel fund by landing in Greece. The real estate manager buys the Sheraton Rhodes Resort, a five-star hotel on the island of Rhodes, from Lampsa Hellenic Hotels, Azora reported in a statement on Thursday.
This is a new purchase of its Azora European Hotel & Lodging fund through which the manager of Concha Osácar and Fernando Gumuzio is positioning itself as one of the largest hotel owners on the continent. This transaction adds to its portfolio of 34 hotels with around 9,300 rooms, located in Spain, Italy, Portugal and Belgium, with a strong component of beach tourism.
The real estate company assures that it continues to work actively to identify new investment opportunities in Greece, given its potential and attractiveness. Xenios Investments Partners has been Azora's ally in the search for the Hellenic market. The company has not detailed the amount of the transaction.
The Sheraton Rhodes Resort will continue to be operated by Marriott. It has 401 rooms, most with sea views. The resort offers a wide range of facilities premiumwhich include five restaurants, three outdoor pools, an indoor spa with an indoor pool, a kids' club, sports and leisure facilities, 15 meeting rooms and more than 3,000 m² of business and event facilities, including weddings.
Concha Osácar, founding partner of Azora explains that this operation reflects her strong conviction about the attractiveness of the hotel sector in the Mediterranean. "Extending our presence to the Greek market is undoubtedly an important milestone for the fund, as it allows us to be present in the most established sun and beach destinations in Europe: Spain, Portugal, Italy and now Greece." She points out that the Hellenic coast not only attracts European visitors, but also a growing demand from American tourists. "With this operation we have acquired an asset of exceptional quality, strategically located in one of the most popular islands in the Aegean. In addition, the hotel will be operated by a top-tier operator, such as Marriot, with whom we are pleased to partner on this project" , it states.
Azora's vehicle for investing in holiday hotels in Europe raised 815 million euros last year, which gives it the capacity to invest in asset purchases for around 1,800 million. Among its latest operations, the acquisition of the company Bluserena stands out, the second largest operator of vacation resorts in Italy, to the Italian family Maresca, incorporating 4,200 rooms.
Osácar and Gumuzio's company has extensive experience in purchasing in the tourism sector, because they have already launched the Hispania socimi (which became the largest hotel owner in Spain), which was bought by Blackstone. Likewise, Azora has other vehicles in housing for rent, another specific one in the US, in energy or a recent one with the sovereign wealth fund of Singapore GIC for residential.