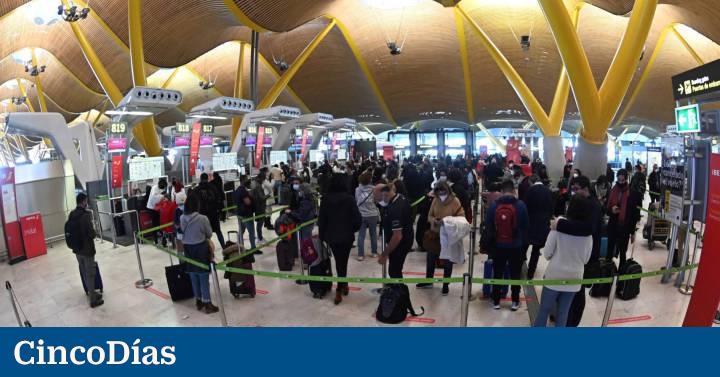 The recovery of the airline sector is underway, in view of the high levels of vaccination against covid-19 and the less seriousness of the dominant omicron variant, and Aena already perceives it clearly in the capacity reserves. For the summer season, which runs from the last Sunday in March to the last Sunday in October, the airport manager has received the 220 million seat schedulewhich implies an increase of 3.6% over the activity operated in 2019.
In times of market normality, the deprogramming that took place in summer at Spanish airports was hardly 3% or 4%, according to Aena sources. For the next high season everything will depend on the evolution of the pandemic, but in the public company there is some optimism. "There could even be news of greater growth from markets as important as the British or German," they explain from the company, "in view of the fact that ómicron offered uncertainty on January 31, which is when the presentation of the schedules is closed" .
This boom in capacity reservations has caused the incentive system has changed to encourage the reactivation of air mobility. Where previously route recovery was rewarded, now priority is given to aircraft load factor. Aena will reduce the passenger rate by 50% on short-haul flights or flights to or from Latin America that exceed 80% occupancy. And it goes further in destinations still punished by restrictions: airlines are exempt from the passenger tax from 70% occupancy on long-haul flights with a destination or origin other than Latin America (essentially the Middle East, Asia, North America).
Aena's incentive policy has accumulated discounts for 82 million euros since the summer of 2020. At this time, the recovery is perceived as strong in the short haul segment and in traffic related to Latin America. There is also a greater pulse in tourist airports.
Aena has positively valued this trend in view of the fact that the short haul (flights of less than 4,000 kilometers) accounts for 92% of the flights operated in Spain. In the same way, it is valued that Barajas is consolidated in the exit of the crisis as a bridge between Latin America and Europe. The 220 million scheduled seats are a clear indication of the recovery of tourism, an essential sector for the Spanish economy and perhaps the one that has been most affected by the health crisis. Now airlines must convert seat schedules into tickets sold.