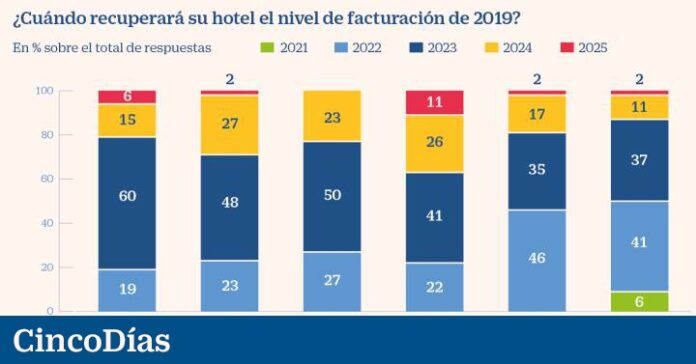 Nine months after the outbreak of the coronavirus, hotel chains have already evaluated the damage caused by that tsunami and are calculating how long it will take for them to return to normality at the end of 2019 in terms of billing, employment and investment. A survey from Cushman & Wakefield Hospitality, carried out in the first week of November to the 50 largest hotel chains in Spain and Portugal, places that date for 2023, which anticipates a crossing of the desert of at least three years.
The recovery, however, will occur at two speeds. Hotels located on the coast and in the Balearic and Canary Islands expect to return to pre-crisis billing levels between 2022 and 2023, one year earlier than urban hotels thanks to mass vaccination of the population in Spain and the rest of Europe and the recovery of air connectivity. In fact, 46% of those surveyed with hotels in coastal cities point to 2022 as the date on which they will return to pre-coronavirus levels and 35% extend it until 2023. Percentages similar to those registered in the Balearic and Canary Islands, although in this case there are even 9% of companies that see a probable return to pre-coronavirus income and occupations in 2021. In all other locations, the first response always marks 2022 as the start of recovery.
And in the case of urban ones, half of those surveyed delay recovery until 2023 and even some hoteliers in large cities, such as Madrid, foresee that this improvement will not be consolidated until 2024 (27% think so), due to its high dependence on business and event tourism. "Cities that depend on business tourism and foreign travelers will take longer, but the moment they recover, they will do so much faster. The desire to travel has not disappeared," he emphasizes Albert Grau, partner and co-director of Cushman & Wakefield Hospitality in Spain.
Despite the brutal impact suffered by hotel chains in Spain (Meliá has lost 470 million in the first nine months of 2020 and NH another 295 million euros), 48% of the surveyed chains continue with their strategic plan. 21% acknowledge that not a comma has been touched and another 27% confirm that the majority of projects are still standing. "Strategic plans continue to push them forward and those that have paralyzed or modified them have been due to lack of financing or because market conditions have changed," Grau emphasizes. 30% refer to problems obtaining credit, 29% consider that the new commercial conditions make the project unviable and 26% reveal problems with investment funds, which have become key shareholders in many cases.
Half of the respondents, despite being immersed in trying to re-float and ensure the viability of the companies, have not lost their appetite to continue growing with the purchase of new assets. In this way, 29.2% admit that they are carefully following possible sale and purchase transactions throughout the Iberian Peninsula and another 29.2% limits that interest to very specific markets. Only 20.8% rule out operations in Spain and Portugal.