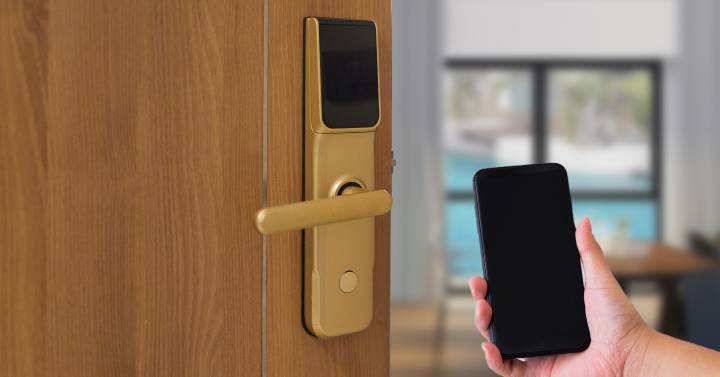 In the first summer without restrictions after the pandemic, tourism expects a boom in travel, accommodation and hotel spending. High prices due to high inflation do not seem to affect demand. The euphoria of the sector, which expects figures higher than those of 2019, has led many companies to invest in technology to offer maximum security and quality services and favor the user experience.
Technological development has increased the options for tourism companies when it comes to managing their facilities. For example, the tourist accommodation sector is choosing to reinforce its accesses with smart locks controlled via an app. The venues have hundreds of entrances and exits per day. Traffic is continuous and companies seek to ensure that it is safe and efficient. Classic keys were traditionally used to facilitate customer access, but over time many were replaced by entry cards with readers. Now, with an increasingly developed market, the security industry allows the doors of rooms and common areas to be opened remotely. All centralized on the mobile phone and managed through an application. This function adds operational value to the so-called 2.0 hotels.
"Technology is essential in today's market, but even more so in a sector like tourism, where activity is frenetic. Added to this need is the challenge of incorporating innovative details to stand out from the competition", says Laura Gijón, sales director of Watchman Door.
Technological development raises the options when managing facilities
For its part, the Canarian startup Hoteligy has presented its novelties for the digital management of hotels, among them, an application also to open doors, an electronic labeling solution for buffets and a reservation engine for treatments and hairdressers. It is a 360 platform that represents an improvement in the day-to-day life of hoteliers and has features such as: a digitized room directory, an interactive map of the facilities, a digital and interactive menu, etc., they explain.
A survey from Oracle Hospitality and Skift shows how 73% of people want hotels to offer technology that minimizes contact with staff and other guests.
On the other hand, recently VisitMalta, in collaboration with Reimagine AI, presented Marija, a virtual reality tourist guide –with features associated with the Mediterranean region and an English-speaking voice with a Maltese accent–. It allows, thanks to the infinite possibilities of artificial intelligence, to help tourists interested in the archipelago to learn about its history. Also, she can interact in real time by answering any question. VisitMalta CEO Johann Buttigieg maintains that "this project is of great importance in improving Maltese tourism, making it more relevant in the 21st century".
The European tourism sector accounts for almost half of global tourism revenue
The European tourism sector accounts for almost half of global tourism receipts and 9% of jobs in Europe. The EU and its Member States are clear that technology is the key to "shielding" the tourism sector. The tourism consultancy of the ITG group, THR Tourism Industry Advisors, and the global technology services provider Wizeline have joined forces to promote the digital transformation of destinations and tourism companies around the world.
More digital reservations after the pandemic
New habits. The tourism sector was hit hard during the pandemic, but little by little there is enthusiasm to travel again. Of course, the social and leisure habits of the population have changed after Covid-19. Thus, some of the global trends, such as the shift towards online shopping, are also being reflected in travel. According to a report by Seedtag with data from Statista, the majority of reservations in the sector, 68%, are made through the internet. Interest in long-distance travel and exotic destinations has also increased. The territories most sought after by consumers this season are Africa, East Asia and Egypt. On the other hand, there is more general concern for the environment, which in the tourist world translates into an increase in so-called "ecotourism", which encompasses responsible travel to natural areas that conserve the environment and improve the well-being of the population. local, and which is expected to reach almost 350,000 million dollars in 2027.
Online searches. Spanish consumers increasingly dive into the internet for shopping and travel information. During the confinement and months after, online shopping gained notoriety by creating shopping habits that had not been tested until then. According to a study by Eskimoz, 84% of users get information on the Internet in advance before purchasing a certain product in order to be able to observe its characteristics and alternatives.