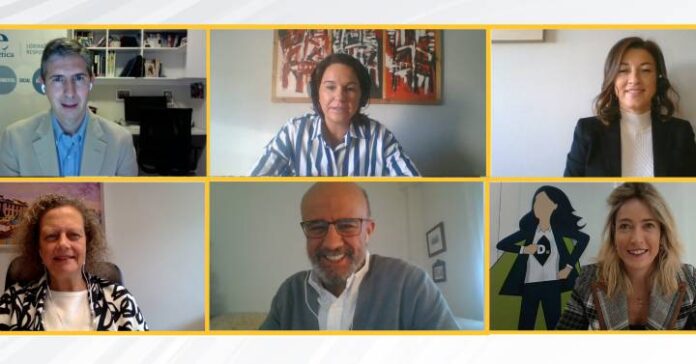 Sustainability is living its moment. In just five years, since the United Nations approved the 2030 agenda to promote and achieve the Sustainable Development Goals (SDG), it has experienced unstoppable progress that has led it to enter the core of the business of companies, both public as private.
The concept has been enriched throughout this short period of time. Along with the environmental values ​​that permeated it mostly from the beginning, it has been incorporating others of a social nature that seek a more just and equitable world, putting the person at the center
Along this path, companies now face the enormous challenge of deepening the transformation of their traditional way of generating wealth and employment. The private ones, linking the economic profitability demanded by their shareholders with those other values. The public ones, deploying policies that benefit citizens.
Both are aware that this process of change is the only way they have to remain competitive and offer different products to ensure their future. That is why they seek alliances between them and also with other actors, while expressing their concern about the sources of financing and doubting the need for a regulatory framework that promotes this sustainable development.
These are some of the issues that were addressed at the meeting Sustainability on the agenda of companies and public institutions, organized by CincoDías in collaboration with Ferrovial.
Paloma Durán, director of the division of Global Policies and Partnerships at the Organization for Economic Cooperation and Development (OECD), traces a common path in the way of making sustainability for public and private societies: "Recovering the person in the center of activity ". And it also exposes different tasks for each one of them. Private companies must have "a clear purpose, to recover what it means to do well and do it well." The public must recover the idea that what matters is the people, "not political interests."
It's about "being more than appearing," as Concha Iglesias, Deloitte Spain's lead partner for sustainability and climate change, explains. "Companies have to believe it. They are there to create value for shareholders, but also to create economic, social and environmental value ". We need them to "fully engage in this purpose" and not forget to "include small and medium-sized companies", he adds, and more so in a country, such as Spain, where SMEs represent 60% of GDP and account for almost 99% of existing companies.
To achieve this transformation and make "a different, highly responsible company", it is necessary to put "social impact at the core, and make it transversal to all business areas. This means changing leadership, with a closer leader, paying attention to all stakeholders, not just the shareholder, and with a more collaborative model ", highlights Ana Sainz, general director of the Fundación Seres-Sociedad y Empresa Responsable.
It is a process of reflection in which public and private companies are fully involved. The former, defined by Jaime Silos, Forética's director of corporate development, as "a hybrid that operates in both areas and an ideal combination to develop sustainability policies in a country", reflecting with them on "burning issues such as the circular economy, social action, etcetera ". The private ones, explains Cristina Moral, Ferrovial's corporate responsibility manager, "asking ourselves what we are as a company and what our shareholders and interested groups want".
Concrete results
Ferrovial represents a good model of this transformation process. It started out as an infrastructure company and is now much more than that. "If we do not adjust our offer to all these sustainability parameters we will not cover future demand. And this is just around the corner, "says Moral. He then mentions Zity, an electric car rental service, and the recent agreement signed with one of the developers in the United States of Hyperloop, one of the most disruptive transport projects and with the most projection for the next few years, as examples. of what he calls "doing things differently."
Paloma Durán also believes that these changes arise from a "demand from society itself." If companies do not realize this and do not have "a clear purpose of integrating sustainability at the heart of their business, everything else is very difficult," he argues.
"It seems that companies had all the answers, but the questions have changed us," reasons Sainz, from Seres. To face this new situation, he recommends "putting sustainability at the beginning of everything, in the company's reason for being. Then it has to capillary all the areas, it has to penetrate all of them ".
Without forgetting, as Iglesias points out, that "to involve organizations, they need to help them." Deloitte accompanies them in this process and explains this new concept well through a series of steps that could be summarized in the following elements: how it works, what impact it can have on your business and how to measure it, where to invest so that this change will it takes time to evolve and become structural and, finally, communicate to your employees and to society the impact of what they do.
Financing and alliances
Green bonds, social bonds…, "around sustainability, financing opportunities are skyrocketing", explains Silos, from Forética. In his opinion, "public companies have discovered that it is also an opportunity to obtain cheap money and to access capital markets." The coronavirus pandemic has deepened this reality. "94% of sustainability indices, whether in stocks or bonds, had outperformed their traditional counterparts in the first quarter of the year, and seven out of ten institutional investors had outperformed their peers in their respective categories. They have done it not only in terms of profitability, but also with a lower percentage of risk ", he says.
"It is not a fad", warns Iglesias, who provides a figure: "It has increased by 82% in the last three years", and anticipates that from June 2021 "we will have references, since regulators are working in lines of social financing ".
Sainz agrees with them and predicts a long way to go, especially in the social world. "In most companies, 80% of their value is not explained by tangible assets, but by intangibles, that new way of operating, that purpose," he justifies.
Moral highlights its importance: "It is the one that has moved mountains and what has caused real reconversions in certain companies." It also emphasizes how "enormously useful it is for private companies to measure these sustainability parameters, the only way we have to prove that this works, implies competitiveness and improves results".
There are other ways to find resources to keep moving on the road to sustainability. Among them are the alliances that are established between public institutions and private companies. Paloma Durán advocates rethinking these agreements and "seeking synergies." It is not about finding donors, but about "everyone being in their place" and providing benefits that improve the lives of citizens.
"The basic thing is to understand well who the partner is and admit it as such, not use it," said Sainz, for whom "individual ends" and not collective ends have been sought in the alliances. It is here where "we have to move forward, where each one has to find their role."
Ferrovial contributes the innovative experiences that have been developed for 15 years "in public-private micro-alliances and social projects that have led to highly innovative ideas and great technological capabilities," according to Moral. Deloitte is committed to establishing alliances with venture labs, startups and other companies.
Regulatory framework
The need or not for the Administration to intervene through a legal framework that obliges companies to incorporate sustainability into their strategies and business lines is the aspect where there are more distant positions among the participants in this meeting. In fact, they oscillate between the rejection that it arouses in Ferrovial and the Fundación Seres.
Moral rejects a framework that qualifies "as an imposition by the Administration" and ensures that "there are many more ways for all of us to promote sustainable development." Sainz is also not a partisan and maintains that the reason that pushes companies towards sustainability is in his own conviction that this is a generation of opportunities that arises from a triple need: "To have a role to improve society, a responsibility to build a better future and an opportunity because it generates competitiveness ".
Iglesias, however, affirms that companies "need regulatory certainty", so that they can "take advantage of this complicity between the public and the private and because they need to know what the rules of the game are." It must exist "as a positive way, not as an obligation", to "promote the path to sustainability and build trust in stakeholders", he declares. Silos agrees and states that "it has to be pragmatic and with a good content of incentives, with a carrot and stick to align all interests".
In the middle of both sides is the representative of the OECD. Durán does not dare to give an answer in global terms, since "in each country the situation is different." His approach is that in principle "regulation alone does not generate change", although it can facilitate it, and emphasizes the main lesson that can be obtained from the alliances established between public and private companies: that the latter "reinforce the their purpose, which is to do well and do it well ".
.