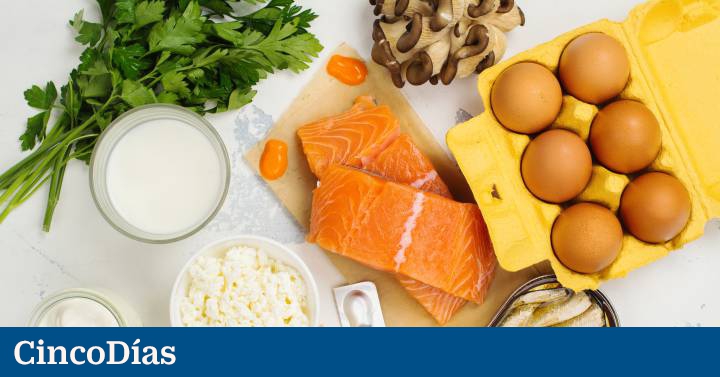 It is paradoxical that more than half of the world's population has insufficient vitamin D, when just sunbathing for 15 or 20 minutes a day obtains the 90% necessary for the body. Even more so in Spain, where, despite having a favorable climate for its natural absorption, more than 80% of those over 65 suffer from a deficit, as well as more than 40% of those under that age, according to latest data from the Spanish Society of Endocrinology and Nutrition (SEEN). And specialists fear that the pandemic has worsened these figures due to confinement and lower consumption of oily fish, vegetables and whole dairy products, although there are still no conclusive studies.
"Recent epidemiological reviews describe a very high proportion of the population with inadequate levels [inferior a 30 nanogramos por mili­litro (ng/ml)], identifying it as a health problem that emerges globally. Statisticians and researchers estimate that almost one million adults in the world have been diagnosed with low values. The deficit affects almost 40%-50% of the population and varies depending on sex, age and the season of the year in which the measurement is made", points out Begoña Ortiz Santodomingo, director of the scientific area of ​​Farmasierra.
Cholecalciferol deficiency is associated with more severe cases of Covid and COPD, according to recent studies
In Spain, even in people who live on the coast, the levels are similar and even lower in all age groups. The blood concentration should be between 30 and 100 ng/ml; below 20 means insufficiency and below 10, deficiency, specified from the SEEN.
But what is it due to? Ortiz focuses on lifestyle: the greater passage of time indoors and the use of photoprotective creams. "There are groups that for cultural and religious reasons do not expose themselves to the sun either," he recalls. Marina Diana Pérez, collaborating professor at the UOC's Health Sciences Department, points out the lack of nutritional support and the geographical latitude. "The fact that a large part of the population lives above the 35th parallel north decreases the chances of synthesizing this vitamin in winter and spring."
Associated pathologies
Ana Montero Bravo, professor of nutrition at CEU San Pablo University, cites environmental pollution, which greatly reduces its production, as well as age (elderly and babies) and obesity, which make it difficult to assimilate, according to Farmasierra and Aora Health. "A control through analysis would be recommended because it has been seen that it has a fundamental role in health, and supplementation if necessary, prescribed by a professional," says Montero Bravo.
Ortiz warns that, "when it falls below 20 ng/ml, anatomical, physiological and biochemical alterations are detected, and clinical disease may occur if the values ​​remain chronically below 10 ng/ml".
Although it plays a key role in bone mineralization, preventing rickets in children or osteomalacia and osteoporosis in adults, in regulating calcium levels in the blood and its absorption and reabsorption in the intestines and kidneys, in recent years has seen its importance in the modulation of the immune system, explains Pérez.
In fact, a recent pilot study carried out in Córdoba associates the deficiency of this vitamin with a greater severity of Covid infection. "Inpatients who received high doses of calcifediol had a lower percentage (2%) of admission to the ICU compared to those who were not administered this supplementation (50%)," says Miguel A. Rubio, vice president of the SEEN. However, he believes that we must be cautious and wait for the results of other trials underway in different countries, since "there are data that suggest this relationship, but they are not solid."
Another investigation carried out at the San Carlos Clinical Hospital in Madrid on 116 patients, with the support of the Neumomadrid Foundation and the Italfarmaco group, reveals that the lack of cholecalciferol worsens the prognosis of patients with COPD. "Patients with low levels of vitamin D, a third in this trial, had a greater number of exacerbations, therefore, they had less capacity to perform physical activity and a negative impact on their quality of life", comments Emilio Ledesma Sánchez-Cañete , responsible for the medical area of ​​Italfarmaco.
In recent years, its role in cardiovascular, metabolic and dermatological ailments, in male and female infertility, complications in pregnancy (preeclampsia) and childbirth and even in cancer, lists Glòria Tort Sánchez, medical director at Gebro Pharma.
Another field of study is its relationship with mental health and cognitive and neuronal disorders (depression, schizophrenia, dementia, Alzheimer's), the experts consulted agree.
Solar exposition. It is recommended to sunbathe 15 or 20 minutes (30 in the elderly and patients with osteoporosis) at least three times a week on the face, arms, legs, without protection and in times and seasons with less radiation.
Diet. Another paradox: the Nordic countries, with less radiation, have better levels of vitamin D than Spain thanks to greater supplementation. The diet only provides 10% of cholecalciferol, but it is advisable to consume oily fish (salmon, mackerel, sardines), mushrooms, egg yolks and full-fat dairy products (milk, yogurt, butter).
Products. Deltius (Italfarmaco), Solvilit (adults and babies from Farmasierra), AQCognitive (Aora Health) and Videsil (Gebro Pharma) are some on the market. In the third quarter of this year, Farmasierra will launch different formulations in tablets (by prescription), while Aora Health will soon market AQActive, for athletes, a product that will replace its current Aora Articular.